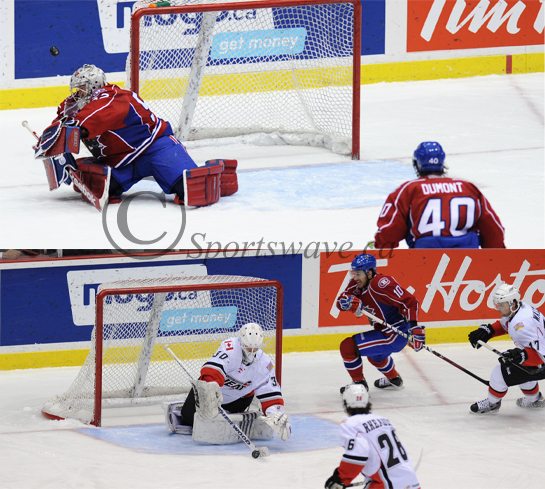 The Heat enter this game having games in hand and still in the hunt of a play-off spot to round out the season for 2010-11.
To date over 39 home games this season the Heat have attracted a total of 147,388 fans which averages 3,779 per game.
This does not include this game!
Irving gets the call for the Heat and played stellar in the game last night facing 23 shots through three periods.
Tonight's game features a young call-up from the Vancouver Giants who  calls White Rock home in the off-season.
Spencer Bennet (6'3″) signed a minor amateur contract for the one game, which just might give the scouts a chance to see what he might offer.
The play-off format for the AHL differs from the NHL with the top eight (8) in each conference making the play-off round.
Each conference has 15 teams and is divided into two divisions.
So you could have the fifth place team in one division lose out to a team in the other division due to points.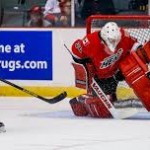 The Bulldogs have been in the league for 15 years and in that time they have won only one league championship, while the Heat are working on number one.
Shots after one see's Abby on top of Hamilton by a huge 11-4 difference.
The second was scoreless for the first 12 minutes, with Abby getting ton's of chances, especially on the PP.
It's interesting when the scouts mention that some players simply look like they don't want to be here and such was the case with at least two players of each team.
The second was solid for the Heat, but as much as they tried they could not buy a goal. Shot after shot, missed, deflected or bounced, all short of crossing the red line. Shots after two had Hamilton outshooting Abby by 19-17.
Starting the third period each team had three penalties, but it was interesting to see each Captain talking to the
ref's when they came on the ice  and while the tone seemed tame, it took a while to finish.
Abby managed to score a goal at 15:17 on a close in play by # 12 Rheault to tie the contest only to be short lived.
At 16:17 Hamilton got the go-ahead goal on a cross ice pass to put it under Irving. This gave them the win and was scored by Klubertanz, unassisted.
The Heat pulled Irving, but it was too little too late. final shots were Abby 30, Hamilton 28.

About Steve Erickson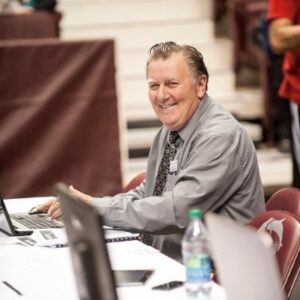 Sportswave Productions is located in Delta, BC.
Sportswave promotes/broadcasts Amateur Sports within the Lower Mainland to promote your sport.
He was also recognized by Ravi Kahlon, BC's MLA Minister for Jobs, Economic Recovery and Innovation in September 11, 2017.
For additional information:
Contact
Phone: (604) 916-4593 cell/text
Calendar
July 2022
M
T
W
T
F
S
S
1
2
3
4
5
6
7
8
9
10
11
12
13
14
15
16
17
18
19
20
21
22
23
24
25
26
27
28
29
30
31