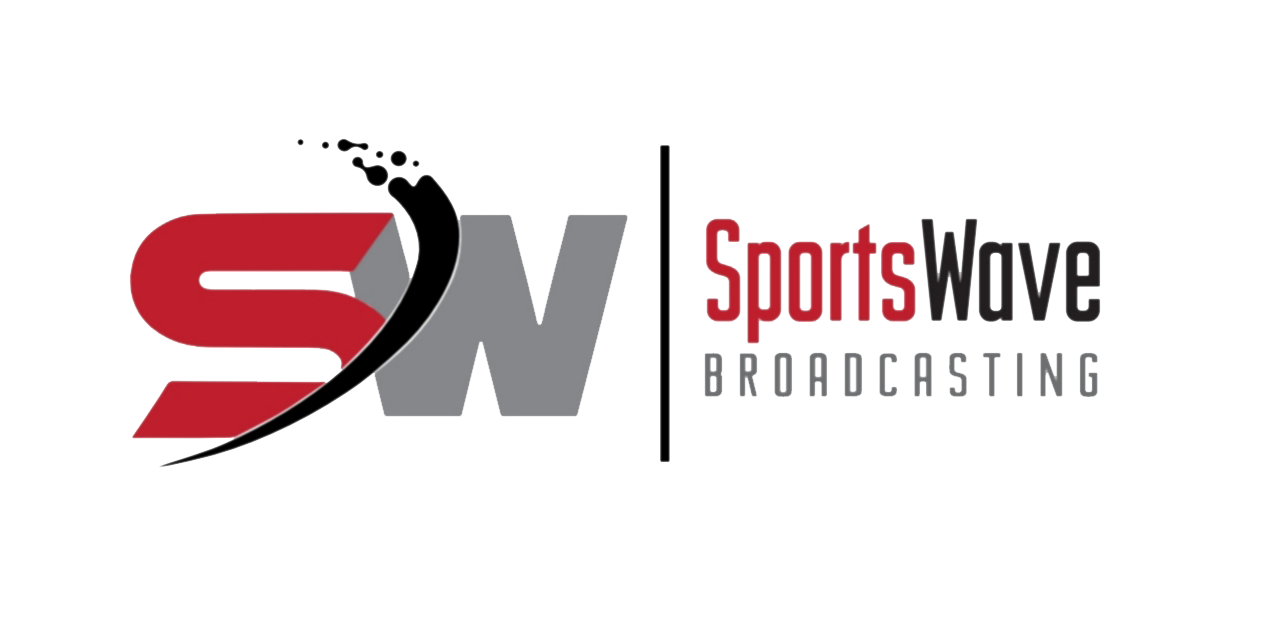 Giants Force Game 7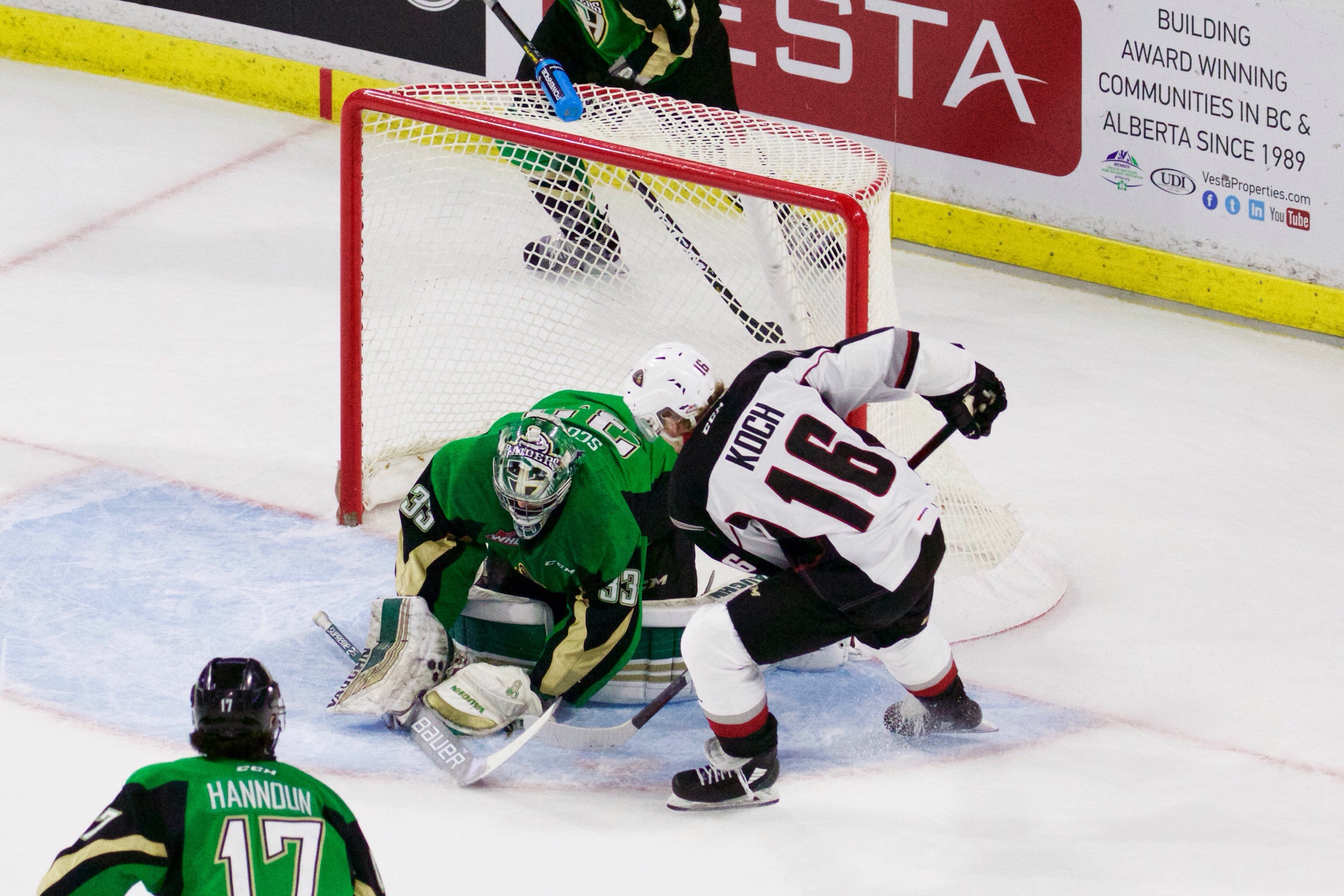 Photo Credit Derek Guscott
The Western Hockey League will see a game 7 played in it's history for only the 11th time and also feature a game 7 for the first time dating back to 2014.
Ottawa Senators prospect Parker Kelly opened the scoring for PA a short 53 seconds in that saw him jump on a rebound that he managed to get back from his initial shot who seemed to catch Giants "tender" somewhat off guard.
The Giants replied at 6:58 mark into the first that saw Justin Sourdif slide one to Davis Koch who was able to get past Raider D-man managing to send a backhand top shelf adding life to the Giants.
Vancouver managed to take the lead a short eight minutes later with Owen Hardy thanks to the Raiders losing control entering the Giants zone that saw Dawson Holt change the flow of the game.
He managed to send a tape to tape pass to Captain Dmytriw who in turn timed on a pass to Hardy who made no mistake notching his 5th of the 2019 WHL Playoffs.
Raiders forward Aliaksei Protas jumped on the loose puck sending it to Kelly who was deep in the zone sending his second backhand of the game past Tendeck tying the game bringing the PA faithful to their feet in the final minute of the period.
It's interesting to note that Aliaksei Protas is eligible for the 2019 NHL Draft being held June 21st and 22nd in Vancouver.
The second period was all about the Goaltenders as both Giants David Tendeck (Arizona prospect) and  Leafs prospect Ian Scott combined for 21 saves on 21 shots.
The saves by Tendeck seemed to pay dividends for the Giants especially in the early part of the third giving a momentum swing for the Giants than anything else.
Lukas Svejkovsky won a battle along the boards and managed to send a shot on net but the rebound came to Dmytriw, who one-timed it behind Scott for what proved to be the game winning goal in the contest.
Davis Koch notched his second of the game sending one into the open yawing net securing the victory for the Giants.
No one can question the play of David Tendeck who has played solid for the third consecutive game and his 36 stops recorded as his second-highest single-game total in the 2019 WHL Playoffs.
Raiders Head Coach Marc Habscheid told the media "Outside of a couple things, our defensive zone could've been better and I thought we missed a couple assignments. They play heavy but we can be better in our own end."
Photo By
 Derek Guscott 

Photo By
 Derek Guscott 
Giants head coach Michael Dyck mentioned "I'm proud of the way we played and coming into a building that's not easy to play in, I think we fed off the energy. I like the way we responded after giving up a goal in the first minute."
Dyck continued "He's another guy that's got a level of composure that gives everybody else confidence and we've had that all year long. We're pretty fortunate to have two very good goaltenders."
Dmytriw told the media "We knew coming into tonight, whether they got they got the first one or we got the first one we weren't going to change our game and  It's been the identity of our group this whole year is to bounce back,"
Sunday's victory now sets up Game 7 in the WHL Championship, the first since the Edmonton Oil Kings and Portland Winterhawks did so in 2014. Raiders captain Brayden Pachal expressed his desire for his team to regain their form while also playing in the spotlight of such an important match up.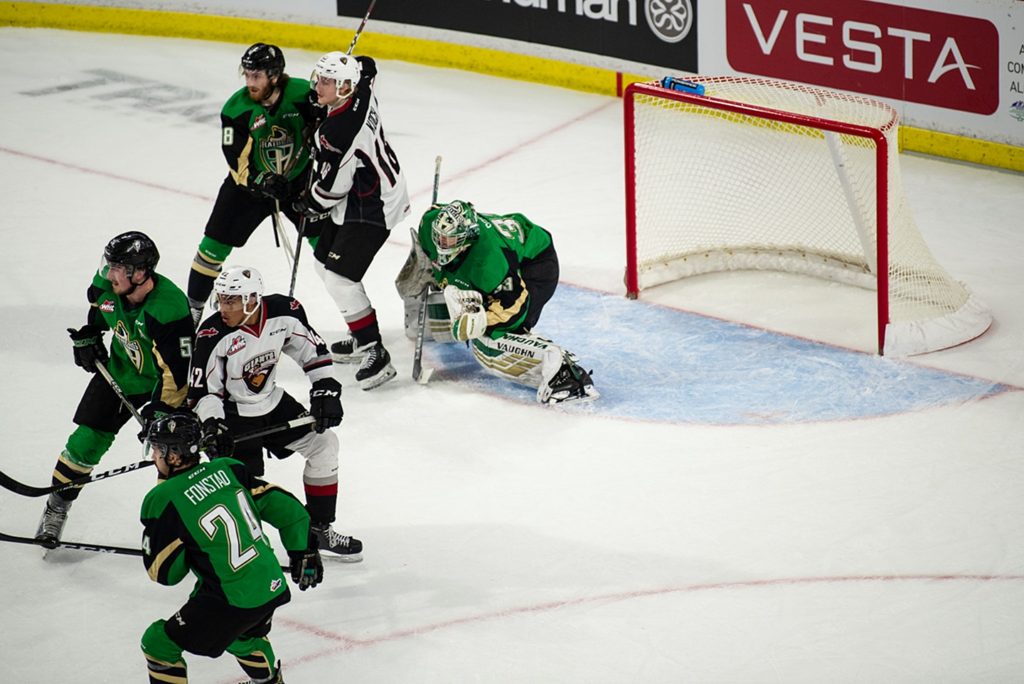 "It's something you dream of your whole life," Pachal said. "It's time for us to take control of that opportunity."
Both Bowen Byram and Brett Leason remain tied for the scoring lead in the 2019 WHL Playoffs with 25 points each.
Dante Hannoun remains the leader in goals with 13 while Byram leads all players with 17 assists.
Game 7 will be on display at the Langley Events Centre starting at 5 pm so make plans to attend and catch the action!!
#WHLChampionship Game 7 History:
2014 – Edmonton Oil Kings def. Portland Winterhawks
2012 – Edmonton Oil Kings def. Portland Winterhawks
2007 – Medicine Hat Tigers def. Vancouver Giants
1994 – Kamloops Blazers def. Saskatoon Blades
1993 – Swift Current Broncos def. Portland Winterhawks
1992 – Kamloops Blazers def. Saskatoon Blades
1987 – Medicine Hat Tigers def. Portland Winterhawks
1984 – Kamloops Jr. Oilers def. Regina Pats
1981 – Victoria Cougars def. Calgary Wranglers
1975 – New Westminster Bruins def. Saskatoon Blades
The winner of the 2019 #WHL Championship Series will represent the WHL at the 2019 Memorial Cup presented by Kia in Halifax, N.S, from May 17 to 26.