Dreams do come true if you have a passion to follow your dreams, your coaches and have what I referred to as the "PHD" (Pride, Hustle and Desire) to achieve success.
Such is the case with Delta's 21 year old Beck Malenstyn (6'2″ 194lbs) was called up from the AHL Hershey Bears farm team for the Washington Capitals in a mid-week game against the Rangers.
He made his debut in Wednesday's 4-1 loss to the New York Rangers at Madison Square Garden and also dressed for Saturday's game against his hometown team in the 2-1 shootout loss to the Vancouver Canucks.
Following the game he (Malenstyn) told "Cap's" media "There was lots of energy involved in that first game."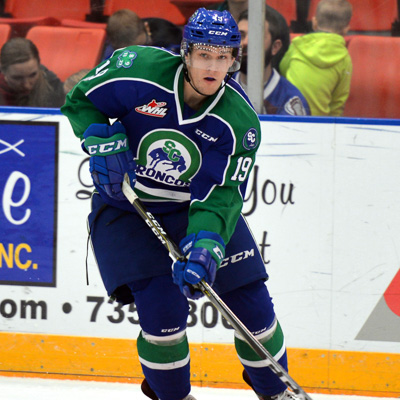 He continued "My goal is obviously to be here full time but for these first two games I'm just trying to take in every moment that I can and I thought I was able to do that and it's been a great experience. We will see where it goes from here but it's definitely been an enjoyable few days for me."
He was in the stage of getting ready to practice with Hershey when he was told he was heading to play with the Capitals along with three other players.
In the game he was fortunate to play nearly 10 minutes against the Rangers recording three (3) shots on goal, one of which was a breakaway on Rangers "tende" Henrik Lundqvist.
When he was asked about being called up he mentioned "It's a whirlwind it happened pretty quickly and you're going to practice, getting ready to go on the ice, then get called into the coach's room. It was a pretty special moment."
He continued "It didn't really sink in until he was at MSG until you step onto the ice. It's such a historic rink with so much that has gone on in it. You dream about it when you are watching as a kid so it's pretty cool to live it in real life."
His career began in South Delta MHA where he played four years then moved to play with the Okanagan Hockey Academy in Grade 8 where he was drafted by the Hitmen in the WHL Bantam Hockey Draft.
He spent three years with the Hitmen before being traded to Swift Current where he was fortunate to advance to the Memorial Cup in his final 2017-18 WHL season.
The Capitals selected him in the fifth round, (145th overall) in the 2016 NHL Entry Draft and in his rookie season with Hershey he managed 16 points in 74 games and had six points in 18 games before being called-up by the Capitals.
Dreams Do Come True – Just Believe!!!