With the 2021 World Junior's underway the first semi-final has St. Johns NF Alex Newhook returned to the line-up that saw Canada taking an early control 59 seconds in.
The first shift of the game saw him drive to the net, managing to grab an early goal that was seen by the off-ice officials, who ironically hit the horn to stop play, different from what we are used to in Canada.
Upon further review, it was determined that it was indeed a good goal allowing Canada to take the early lead 
Prior to the start,both coaches were introduced and it's fair to mention that Russia has a more impressive coach than Team Canada, given the fact that Igor LARIONOV (1960) who started his career in 1977 managing to win three Stanley Cups with the Detroit Red Wings (1997, 1998, 2002). 
Adding to this recognition he was inducted as a member of the Hockey Hall of Fame, November 10th,  2008 and was also a member of Detroit's famed Russian Five line.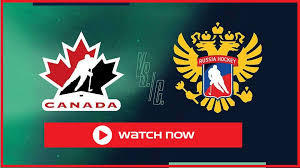 The early start by Canada saw them continue to press in a game that saw Russian "tender" Yaroslov Askarov who managed to drop his stick in an unwavering fashion, not only once but a couple of times that seemed to shock TSN Broadcaster Ray Ferraro.
In sticking to their game plan of attack Connor McMichael put Canada up  by a two goal margin at 10:33 that saw Russia start to run into penalty trouble as PODKOLZIN took a double minor for high sticking at 12:50.
Canada jumped out to a three goal lead with Perfetti getting a PP marker at 15:05 that saw them control all puck battles throughout the first twenty minutes.
The second continued to be a physical affair with Russia with Byram walking into the slot area Schneider scored for Canada at 24:09 on the glove side with Askarov's stick in "no man's land."
Each team traded one minor with no scoring, but at 39:30 KNYAZEV was assessed a minor for hooking giving Canada a PS that saw Cozens miss, keeping it a 4-0 game.
Heading to the dressing room saw Canada leading in the shot department by a 21-14 split, possibly by having six returning players from last year's tournament.
Given the  score it wasn't any surprise that the third would become more aggressive at both ends of the ice with Levi staying square to the puck making the saves needed.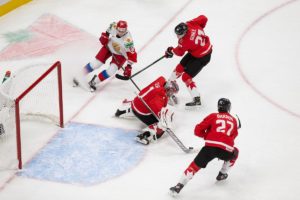 The pressure was on Russia and it wasn't any surprise that the tempo would be a much faster pace at both ends of the ice, with each having quality close-in chances.
With the score being all but over for Russia they pulled the "tender" with 3:10 left in the third allowing Canada's Cozen's to break in sliding one in the open net giving Canada their fifth goal of the game sealing the victory advancing them to the Gold Medal final against either the US or Finland.
The victory not only advances Canada, it places Cozen's sole place for fifth place in the scoring depart as well as having Devon Levi tie Justin Pogge who played 30 games in the KIJHL for the Summerland Sting in 2002-2003 with a GAA record of 3:13 and a SV% of .917.
The win by Levi saw him stop 116 shots out of the 119 he faced.
This game see's Canada play for the Gold Medal for the 18th time looking at a repeat.
OH THE DRAMA! 59 seconds in @HC_WJC 's Newhook gets credited with a goal and it's 1-0! #WorldJuniors

Here's the goal 👇 pic.twitter.com/OY4wK94UEJ

— IIHF (@IIHFHockey) January 4, 2021