Despite the snow in the lower mainland it's fair to say that Scott Bonner is used to this given the fact he comes from Northern Alberta and for him, it's not all that bad.
Scott first became a house-hold name when Ron Toigo was granted a WHL expansion franchise for the 2001-02 season playing at the PNE's Coliseum, former home of the Vancouver Canucks.
Scott worked for Ron when he (Ron) owned the Tri-City Americans well before the existence of the Giants for the first 15 seasons.
Anyone that knows Scott understands he is personable, honest and trustworthy to everyone he comes in contact with.
Despite controversy that often surrounds player movement it was Scott's personality that allowed him to draft players that would go on to have a successful pro career.
Such is the case with him getting Craig Cunningham (29) currently scouting for Arizona to make the Giant's his home after pondering if the move from Trail be the fit he was looking for.
It was an interesting dilemma for Craig as word on the street in Trail was that he would play for the BCHL Smoke Eaters and committed to them the previous summer.
A few years back we had the privilege to do an interview with Craig and he offered nothing but praise for Scott about how he treated everyone with the team and beyond.
Of course playing in his hometown of Trail all changed after Scott met with his Mother (Heather) who felt she could trust Scott to take care of her young Son, leaving her with no worries.
He was the integral part of the 2007 Memorial Cup run as well as four straight 100 point regular seasons running from 2005 through to 2009.
Scott along with other Scouts were fortunate to have players as well as Craig Cunningham which included the KHL Dinamo Minsk Jon Blum, Calgary Flames Milan Lucic, San Jose's Evander Kane and Montreal Canadiens Brendan Gallagher under his wing.
Scott's success was recognized by the WHL with him winning the Lloyd Saunders Memorial Trophy as the league's top executive for the 2005-06 season.
This was the season that Vancouver went on to win the playoff title with an outstanding run of 16-2 the season in which the Giants won the Western Conference regular season banner and capture the playoff title with a 16-2 run.
That was only the beginning for the Giants for consecutive (four) of 100-point seasons and a five-year run of B.C. Division championships.
This began a five-year stretch run that Giants raked up 83 WHL playoff games advancing four times to the Western Conference final.
In 2007 the Giants hosted the Memorial Cup, with Medicine Hat in as the WHL Champions and both played Lewiston Maineiacs and the Plymouth Whalers,.
This was the very first time the QMJHL and OHL Champions were both based in the US and the first time we saw a four-man officiating crew for the Memorial Cup final.
Don Hay's Giants lost in a tight seven game series to the Tigers, who would go on to lose to the Giants in the Memorial Cup Championship.
Vancouver's all-time leading scorer, Brendan Gallagher is one of Montreal's most talented young players is currently out of the line-up due to NHL concussion protocol and also unable to make it.
To the surprise of some Scott left the Giants following the 2015-16 season and is currently the Senior VP for The Sports Corporation an Edmonton-based company that acts as agents such as Gallagher, Lucic and others.
Scott's name is added to 10 former players on the Vancouver Giants Wall of Honour, which include Milan Lucic, Craig Cunningham, Brendan Gallagher, Brett Festerling, Andrej Meszaros, Mark Fistric, Gilbert Brule, Evander Kane, Cody Franson and Lance Bouma.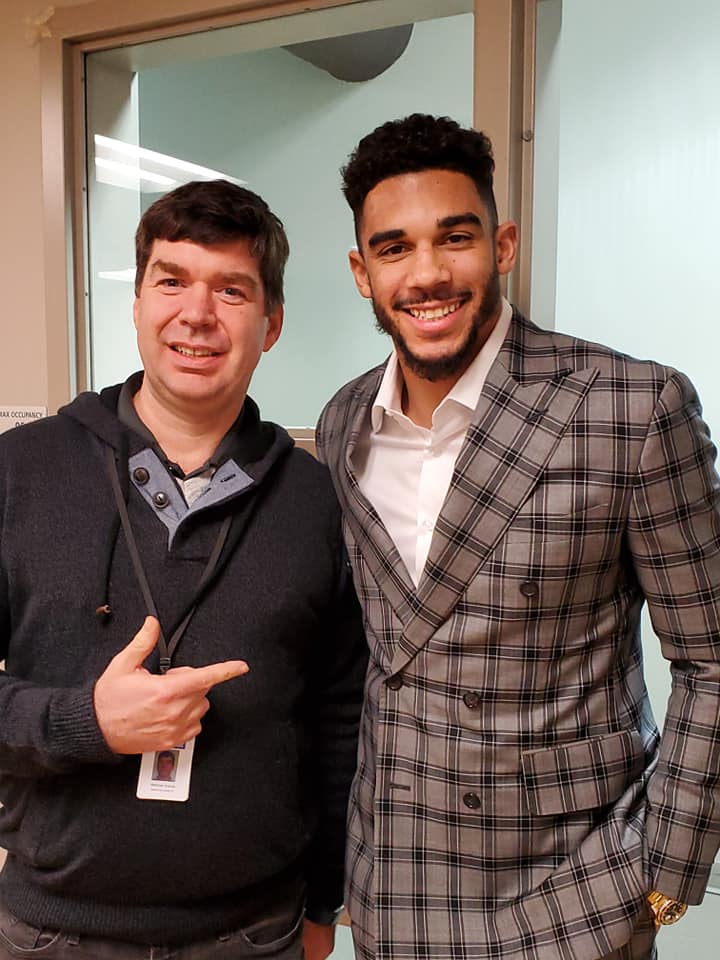 Timing couldn't have been more perfect given the fact that the Sharks are in town taking on the Canucks and in true professionalism Kane was on hand for the ceremony and had nothing but praise for Scott.
Prior to the ceremony I spoke with Scott about what this means to him and he mentioned "It was a pretty good day for the Bonner family. I remember sitting at a table with Lance (Bouma), Brendan (Gallagher), Milan Lucic, Ian Gallagher, my father and my brother – Very influential people in my life and guys that probably helped me get this honour."
2007 Vancouver Giants Roster:
Mario Bliznak, Jonathon Blum, Lance Bouma, Craig Cunningham, Mitch Czibere, Brett Festerling, Cody Franson, Garet Hunt, Evander Kane, Tim Kraus, Neil Manning, Brendan Mikkelson, Milan Lucic, Spencer Machacek, Kenndal McArdle, Wacey Rabbit, Blaine Neufeld, Brent Regner, Michal Repik, Tyson Sexsmith, A.J. Thelen, Nolan Toigo, J.D. Watt, James Wright, Mike Wuchterl, Scott Bonner (general manager), Don Hay (coach).
Sportswave/Eastlink (Delta TV) were on hand to cover the event as well and we want to thank Dan O'Connor for assisting with our interview, but of course we let Dan go first since he had to go "on-air" for the call of the game.