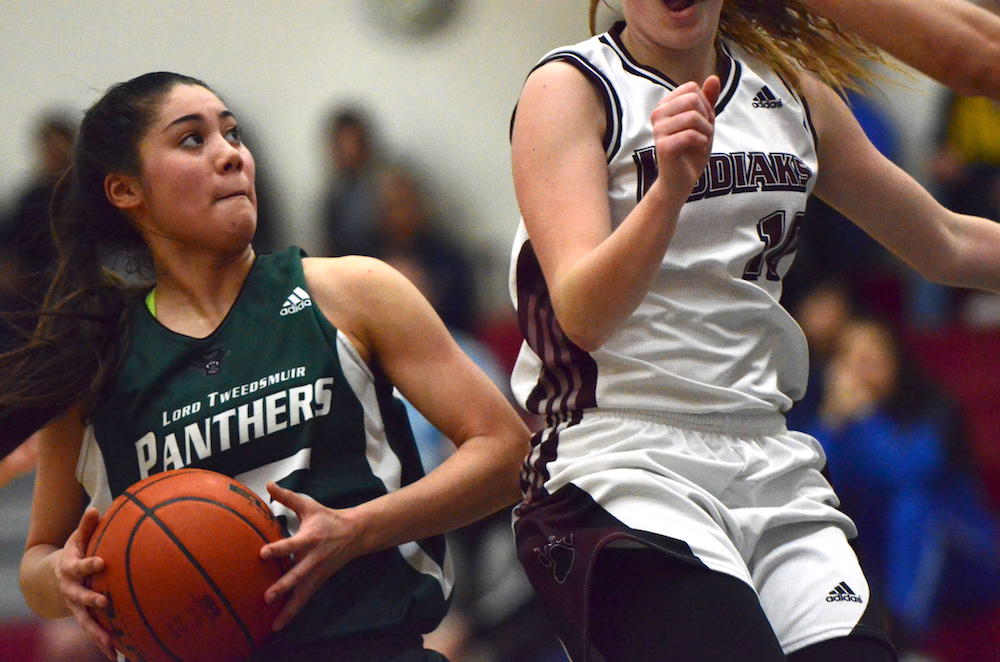 This past weekend saw the conclusion of the BC High School Girls Basketball championships a t the Langley Event Center with a new Triple champion crowned as well as three additional titles awarded in the "AAA" Junior Girls and Grade 8 titles.
The Grade 8 final saw the Semiahmoo Totems play host to the Stevenson-London Sharks in the championship game, which proved to be a lopsided affair.
The Totems captured the title by an unbelievable score of 89-25 over the Sharks that had no top match contenders available to play the top ranked totems.
The London-Sharks finished second in the Province simply for bragging rights in the off season in Stevenson and a chance to build for next year.
The Grade 9 final saw St. Thomas Moore Aquinas square off against the Kelowna Owls in the final but in a match that St. Thomas Moore were just too much to handle for the Owls.
They trailed early and STA kept adding to the lead at the half and handing the Owls a 49 27 loss to capture the Provincial Title as the Owls go home with a solid second place finish.
The "AA" final Seycove Seyhawks from North Vancouver tipped-off against the Vernon Panthers that saw the Seyhawks open a 35 19 lead at the half.
The second half was more evenly matched with Vernon outscoring Seycove 35-34 making it close to the final buzzer that saw the Seyhawks crowned champions by a narrow margin of 69-54.
In the "AAA" final saw Lord Tweedsmuir Panthers take on the Abbotsford Panthers, who got off to a quick lead that expanded to 19-5 as well as a 22-14 after the opening quarter.
The Panthers fought back closing it to 28-24 with a mere five minutes remaining in the second half, heading to halftime.
They (Panthers) continued moving to within three points with a mere 4 minutes remaining and with a 1:43 left in the opening half.
They managed to drop in a jumper allowing them to take a 33-32 lead heading to intermission.
The Tweedsmuir Panthers continued to sink shots that saw them outscore Abby 20-13 expanding the lead to 56-46 heading into the fourth quarter.
Each team managed to score 11 points in what was an evenly played quarter, but the end result saw Lord Tweedsmuir finish by a 67-57 victory capturing the Provincial title.
Beginning March 15th see's the Boys Junior and Senior championships with the games running through to March 18th.
Thanks to Bruce Nolte for the story/sportswave reporter