Anyone that knows me personally, you know that given the chance to promote a sports official, I'm going to jump at the chance.
I hear that Saskatchewan's longtime hockey official and league organizer Bill Johnston was an easy choice for the Moose Jaw and District Sports Hall of Fame selection committee.
Some were asking the ultimate question of 'why not sooner" and as everyone knows there are so many great individuals who spend time helping others, it goes without saying that it won't happen overnight.
When you're responsible for the creation and development of the one of the top Junior B leagues in Canada and played a central role in the formation of the Western Canadian Baseball League, in addition to literally helping build the national ice hockey program in Japan, well, that's the kind of thing that gets you noticed by all sorts of people.
Johnston was one of five individuals and teams enshrined on the Hall of Fame's Wall of Fame on the second floor concourse in Mosaic Place during the 2019 induction ceremony on Oct. 19.
His son Derrick Johnston who was inducted Bill alongside step-daughter Jana Faringer mentioned "I think he just loved sports and particularly hockey so much that when he quit playing he just wanted to stay in it and he wanted to have his hand in it as much as possible and wanted to be a part of it even if it was behind the scenes."
He (Johnston) relocated to Moose Jaw in 1975 and naturally brought his love of sports with him and we here his passion was officiating hockey.
The early 80ties he was instrumental in the formation of the Highway Hockey League when it amalgamated or joined three (3) different league and served as the first president and also officiated.
He achieved success in the officiating world reaching his Level 5 official going on to become the Provincial RIC of the Saskatchewan Hockey Association.
He was instrumental in forming the Moose Jaw Hockey Officials Association and in 1998 became the MJMHA Commissioner.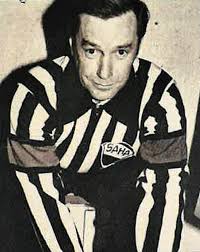 Derrick mentioned "That was an opportunity of a lifetime for him, I know he really enjoyed it and made lots of friendships over there that lasted his whole life and that's where the memories of his dad and sports mostly flourish, with Bill's time as an on-ice official.:
Derrick continued "He took that very seriously and was very good at it and sometimes when he would go to games with my brother and I, he would critique the referee tt was kind of funny hearing him say things about other referees and how they were calling the game and things like that. But we learned a lot from him doing that, too."
In 1992 he decided it was time to do something about the lack of second-tier junior hockey in southern Saskatchewan and helped found the South Saskatchewan Junior Hockey League.
Junior "B" hockey would become one of the top leagues of its kind, with its teams regularly attending the Keystone Cup National Championship.
He went on to serve as president for the first five years, and was still around when the SSJHL joined the North and eventually became the Prairie Junior Hockey League and it goes without saying that the Bill Johnston Trophy is presented to the PJHL South division champion at the end of each season.
Hockey to baseball and during the "lean" years with the Saskatchewan Major Baseball League on the decline in the late 1990s, he helped form an alliance and interlocking schedule with a high-level league out of Alberta.
This saw him start the formation of the Western Major Baseball League in 2000 that saw the league become the Western Canadian Baseball League just this past season.
and has developed into the premier college summer leagues in the country, drawing hundreds of thousands of fans to ballparks every summer.
Sadly; Bill Johnston passed away Feb. 23, 2012 to which his son (Derrick) mentioned "He has no doubt that the Hall of Fame induction would have been a major highlight of his father's lifetime in sports."
|He continued "It's amazing and it's an honour, I feel really proud of what my dad accomplished and being able to be inducted into the Hall of Fame is an amazing honour."
Johnston received the Saskatchewan Hockey Association Outstanding Volunteer award in 1994 and was named the Moose Jaw Times-Herald Sports Builder of the Year in 2007.