McCoy Win's Freedom 55 Financial Open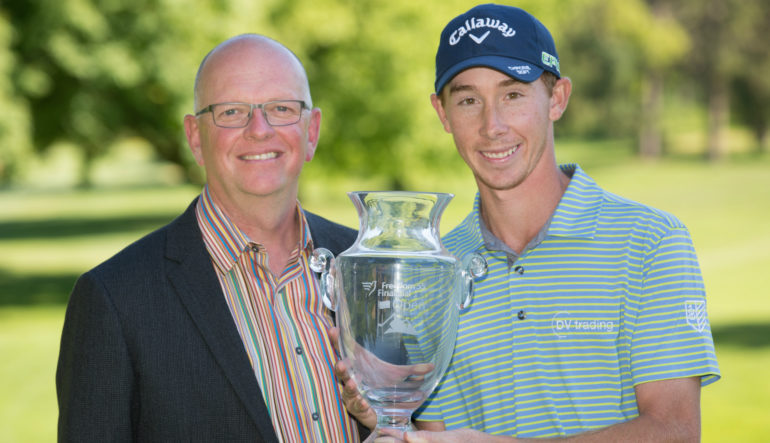 http://golfcanada.ca/article/lee-mccoy-cruises-to-victory-at-freedom-55-financial-open
Twenty-three year old Lee McCoy of Tampa managed to post his first victory  win managing to pull off an eight-shot win in the Freedom 55 Financial Open at the famed Point Grey Golf and Country Club.
McCoy is a former amateur and college golf individual who attended the University of Georgia and managed to shot a final round score of 6 under 66 managing to turn a three shot lead into an eight shot win.
As the day started he had a three-shot lead over Scott Vincent and given the shots he was making he managed to outplay Wisconsin's Jordan Niebrugge and Kentucky's Hunter Stewart to cap his weekend's play with the Championship trophy.
While this event is played in Vancouver, one should not forget the talent level of players that the Mackenzie Tour Tournament draws from.
The win sees a turnaround for McCoy from the conclusion of 2016 when he managed to sustain a broken wrist in two places in a car crash prior to the second stage of the Web.com Tour Q-School.
The win get's him one step to achieving his Web.com tour status for the 2018 year, which was a goal he had his sights set on entering this event.
The week long event see's McCoy who entered as a three-time All-American that included a 1st team selection in both 2015 and 2016.
McCoy becomes the fourth straight player to make the Freedom 55 Financial Open his first win on the Mackenzie Tour, joining Joel Dahmen (2014), Drew Weaver (2015) and Dan McCarthy (2016).
McCoy's 20-under total of 268 represents the lowest score in the history of the Freedom 55 Financial Open.
Managing a 7-under total as well as a T20 finish Matt Hill of Sarnia earned the Freedom 55 Financial Canadian Player of the Week and a $2,500 prize purse.
The top Canadian on the Order of Merit at season's end earning the Dan Halldorson Trophy, Freedom 55 Financial Canadian Player of the Year and a $25,000 purse.
Hill is a member of Freedom 55 Financial's Team Freedom along with fellow players Ryan Williams, Mackenzie Hughes, Taylor Pendrith, Adam Svensson and Albin Choi.
NOTES:
Jordan Niebrugge
Jordan Niebrugge (23) made his first start on the Mackenzie Tour this week and the former NCAA All-American at Oklahoma State holds an impressive amateur resume that includes wins at the Western Amateur and U.S. Amateur Public Links.
In 2015 he (Niebrugge) finished T6 earning a Silver Medal at the Open Championship as the low amateur.
Hunter Stewart
Hunter Stewart (24) also made his first start on the Mackenzie Tour this week and the former NCAA All-American at Vanderbilt played with Lee McCoy on the 2015 Arnold Palmer Cup team.
He was also listed as a semi-finalist for the 2015 Ben Hogan Award.
Burlington's Blair Hamilton finished at 7-under as did Matt Hill (Sarnia) also at 7 under ending his round tied for 20th place.
Richmond's Chris Crisologo finished 6 under as did Vancouver's Ryan Williams.
Congrats to the head Pro Dave Zibrik and staff for once again doing an exceptional job hosting the tournament.
Thanks to Bruce Nolte for covering the event!!