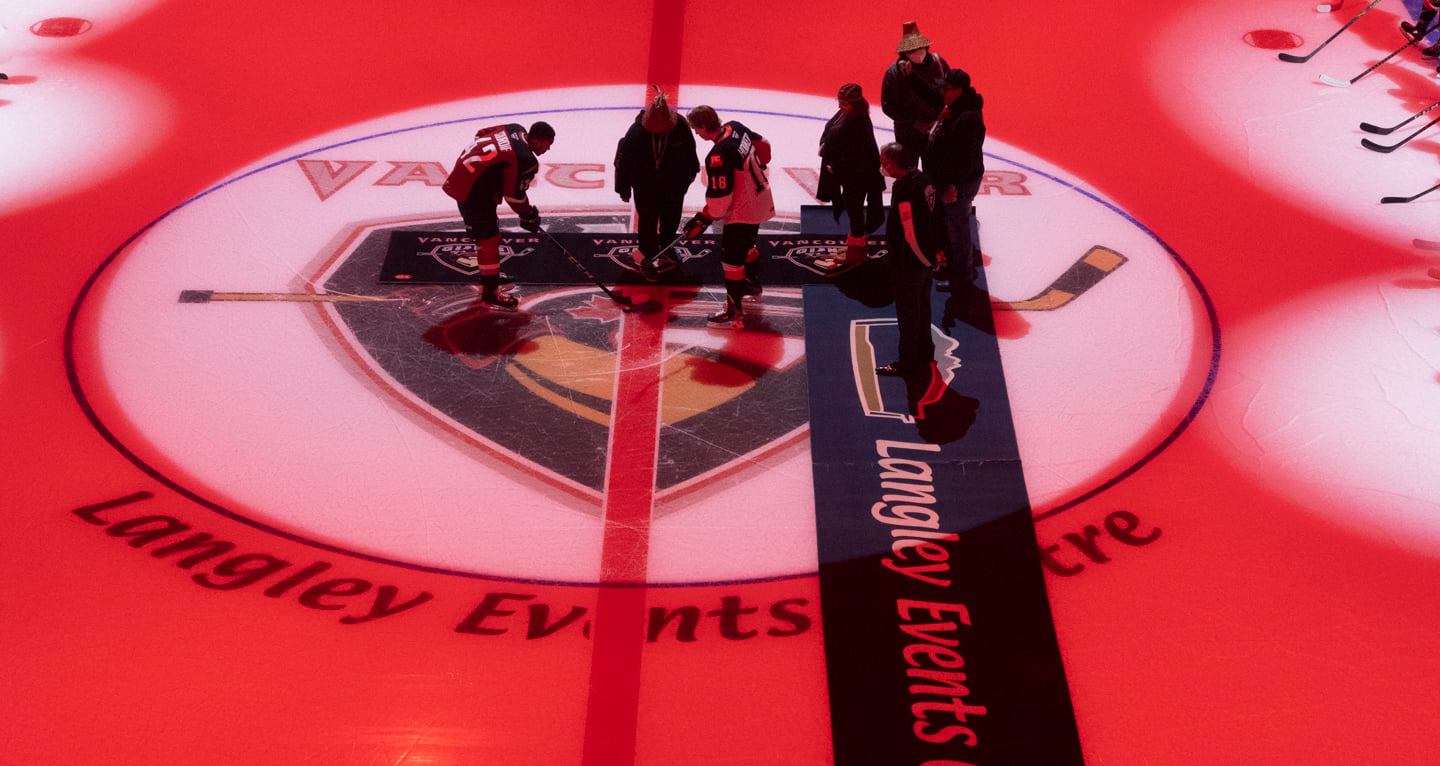 Three local indigenous elders held three ceremonial face-offs
Photo Credit D. Laird Allan/Sportswave
The Vancouver Giants returned to the Langley Events dating back to playing in the 2919 WHL playoffs following the absence of 588 days playing in front of 2,628 fans with a video tribute on the jumbotron.
The first game in 19 months featured a fast paced match-up with Cougars Taylor Gauthier and Giants Japer Vikman playing solidly in the blue paint.
The opening was spoiled for the home fans at 11:15 as PG's Carter MacAdams opened the scoring close off a Mitch Kohner pass from behind the net and the second assist going to Fischer O'Brien.
Vancouver scored the equalizer at 16:23 as Adam Hall (2) was set up from Justin Sourdif and Mazden Leslie only to be followed by one from Sourdif on the PP with assists going to Thorpe and Mount putting the G-men up 2-1 after one.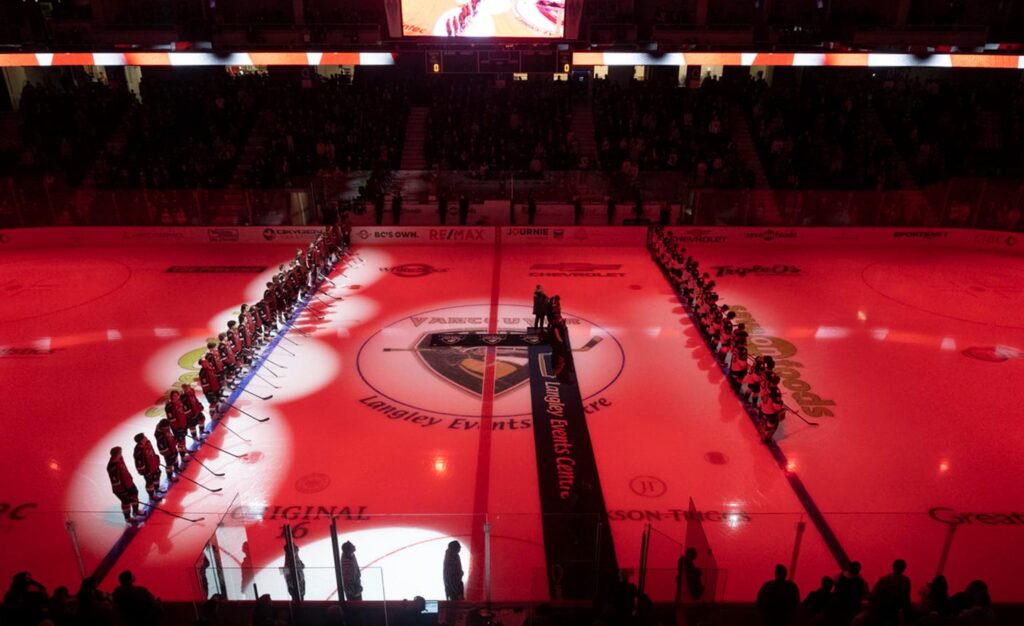 Ty Thorpe gave the Giants a late goal at 18:41 after he deflected a point shot from Mazden Leslie after a face-off win in the attacking zone taking a 3-1 lead to the room after 20 minutes with Vancouver outshooting PG by a 14-9 margin.
PG came out with more of a jump in the early part of the second pulling them within one after a three-way passing play at 1:15 as Heidt and Armstrong set up Gronick for his second of the season.
The Cougars continued to press that saw Thornton evened the score after his long shot deflected off Giants D-man going past Vikman at 7:25 to the delight of those listening in from PG.
Fort St. John's rookie Ethen Semenuk (16) got his first WHL goal at 12:31 giving the Giants their second lead of the game after a shot from Maxden Leslie with the Giants leading in the shot department 14-9 in the second.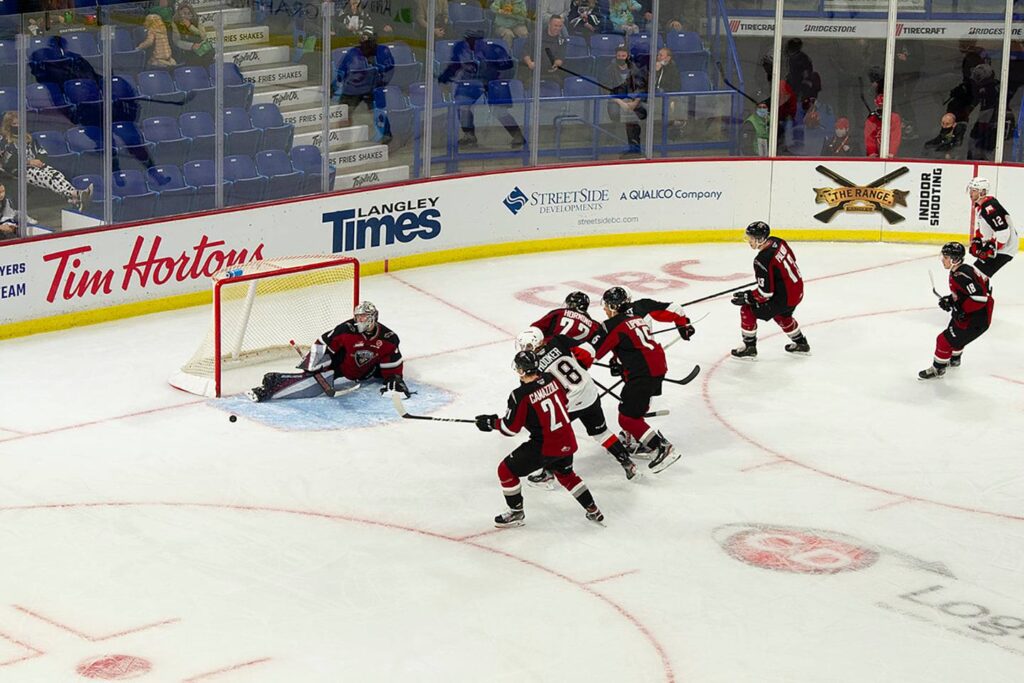 Adam Hall and Justin Sourdif combined for what could be called the "play of the game" going down the right side with Hall crashing the net redirecting Scourdif's pass for his second of the game and third of the season taking a 4-3 lead.
After a two-on one rush Justin Lies got the insurance goal at 14:42 following a two-on-one breakout with Thorpe and Ostapchuk putting the Giants up 5-3.
The Cougars continued to push back, but it wasn't until 19:20 that Cougars Hooker deflected a pass from Ethan Samson for his second of the season as PG outshot the Giants 13-12 in the third.
Game Summary
Vancouver 6 – Prince George 4
Shots: 36 – 35
Prince George Goalkeepers Jesper Vikman: 32/36
Vancouver and Taylor Gauthier: of the Cougars 29/35 saves
special teams Vancouver Power Play 1-3 and the Cougars 0-5
Three Stars:
1. Justin Sourdif
2. Adam Hall
3rd Mazden Leslie
Next Giants home game is Saturday October 16th when the play host to the Kamloops Blazers.
Justin Sourdif and Adam Hall have both posted back-to-back multi-point games for the Vancouver Giants.
In two games so far this season, Hall (3G, 1A) and Sourdif (2G, 3A) have combined for nine points.
The 2005-born defenceman recorded the first three assists of his WHL career.
Prior to tonight, Mazden Leslie had six career goals in 18 games, but can now add three helpers to that total.
Ty Thorpe recorded the first three-point game of his WHL career Friday against PG.
The Vancouver Giants penalty kill is a perfect 10/10 to start the year.
Zack Ostapchuk recorded one assist, a +2 rating and three shots in his 2021-2022 season debut with the Giants