As Families we either play, coach, watch or volunteer for a sport that in most cases keeps the Family together.
Sports is another area that keeps us fit and healthy, furthermore in today's world it keeps us focused in areas that we might otherwise stray.
In a recent conversation with Ray Moon he mentioned that it could possibly be the final season for a family that has impacted the sport for over ten years in South Delta.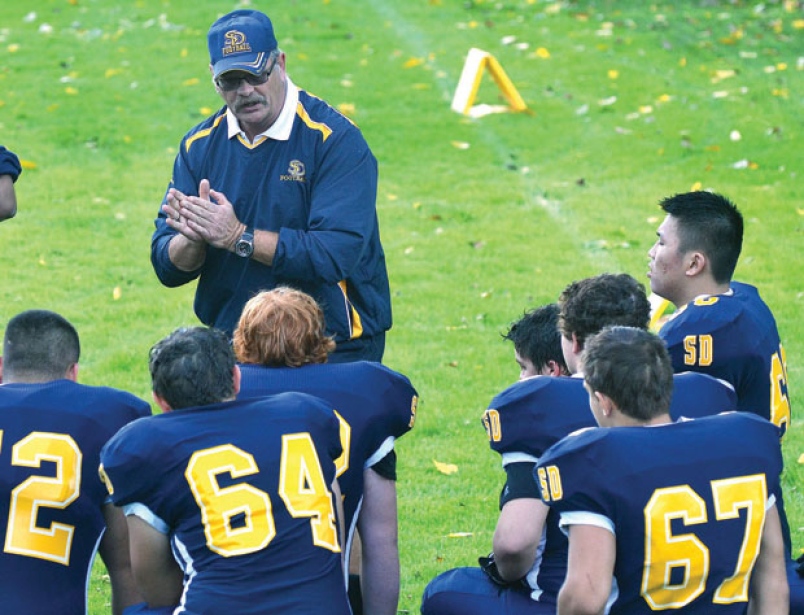 With the return of the BC High School Football this week we should remember if we don't know that the school football coaches have had their squad on the field since mid August.
The South Delta Sun Devils play host to the Terry Fox Ravens September 7th with the kick-off set for 1:30 pm, but the game will be played at Dennison Park.
Starting QB (Ben McDonald) is in Grade 12 and from what I hear from various "football" individuals he's currently attracting lots of interest from schools for not only his football ability but also as a lacrosse player.
Ben's Father, Bruce began his coaching career at Dennison Park with the South Delta Rams with his two older Son's Grant and Jack, both currently play at the University of Calgary, so it's ironic that his career will wrap up at Dennison Park.
Football wasn't the first choice for Bruce as he played Basketball at Killarney Secondary, but while attending UBC under Head Coach Frank Smith.
He eventually changed sports to focus on playing Football at UBC being an intricate part of the T-Birds that win the Vanier Cup in 1986 and a short three years later he was drafted by the Edmonton Eskimos.
We all meet our spouses in the strangest of places and you couldn't have written a better script as it was when he helped out coaching the annual "Tea Cup" women's game between Nursing and Home Ec students that he met his wife.
To the surprise of no one in South Delta it was Jeff von Ende who managed to convince him to help with his Rams coaching staff.
As if one team isn't enough he somehow managed to work/assist with three teams in 2014 as Grant was starting for the Sun Devils as well as the Rams Bantam team in his Grade 10 year.
It was this year that the South Delta Secondary School program won its first-ever provincial title at the AAA level at BC Place and what a win it was.
For those who can remember the game, you will remember that the stands were packed with students from the school cheering the team on each and every play they made.
He's hoping that in his final season he can again help the Sun Devils win another Provincial title at BC Place – and we know that the students will fill the Stadium.
The following Saturday, September 14th South Delta travels to play against Seaquam Secondary.