The question one has to ask is simple – "should the Government give funds or any size to a professional sports team during this Pandemic crisis and if so how much and what should the terms be."
The past while much focus has been on families, business ventures as we slowly move forward toward any full re-opening for the local economy?
We are watching the NHL play within "the bubble" for the Cup final, which for all intensive purposes seems to be working extremely well.
Baseball for minor pro teams has taken the season off to reflect and refocus for the upcoming season, while the CFL made a pitch to the Federal Government
CFL commissioner Randy Ambrosie made it official and cancelled the 2020 season August 17th effectively meaning the Grey Cup won't be presented this season marking it the first time dating back to 1919. 
The decision comes after the CFL was unable to secure financial assistance from the federal government with an amended request dated Aug. 3rd for a $30-million, interest-free loan that saw neither side able to reach a deal.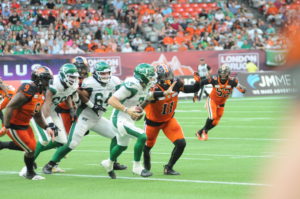 It's reported that this was the CFL's last-ditch try to hold somewhat of a shortened season that would have been held in the hub city of Winnipeg, coming after the league requested for $44 million in July.
Ambrosie told the media while on a conference call "I do feel I am responsible for the fact that we are not on the field this year but I resolve to learn from what we've experienced and I'm looking forward to a bright future."
He continued "I think we're all watching an example on the world stage today of a leader that takes no responsibility for anything . . . and no matter what happens, I won't be that guy."
While many question why the request was made it's reported that the CFL required government funding to stage somewhat of a shortened season. 
Earlier in April he (Ambrosie) mentioned that the league had presented a three-tiered request for financial assistance that first began with $30 million in the event of a shortened season and quite possibly requesting for up to $150 million pending a cancelled campaign.
Ambrosie went on to mention "I regret that . . . I do wish we hadn't thrown that number ($150 million) out and we never asked for $150 million, at least I don't feel we did."
He went on to mention "What we did was aggregate what we thought was the worst-case scenario and in the end our problem could be as big as $150 million,' but that became the number."
It's reported that the CFL collectively lost around (?) $20 million last season and with the possibility of no football a source close to the league mentioned the league will lose between $60 and $80 million this year.
Frustration had to sit with Ambrosie, league owners and governors with many sensing everyone was at a loss to explain why the CFL and government couldn't come to a suitable financial arrangement. 
But two league sources said the $30-million request fell through when the assistance couldn't be provided to the league under the terms it sought.
It's reported that in July the league officially ruled out a loan from the Business Development Bank of Canada in part as the league felt the interest rate was far too high.
Ambrosie went on to mention "I think there were at least a couple of times when for really good reasons we felt like we were on track to be able to do something with the government and it didn't happen."
It should also be noted that one other requirement for an abbreviated season was the CFL and CFL Players Association fully agreeing on an amended collective bargaining agreement, and while close to a deal  they officially cancelled the season. 
This is coming from CFLPA president Solomon Elimimian who mentioned "It's definitely disappointing and yes, we were surprised."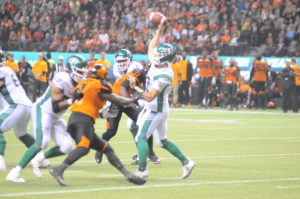 He continued ""We felt like we were making tremendous progress . . . things were moving in a way that led me to optimism, led all of us to optimism and from that aspect, when the news came it was definitely tough."
Out of the nine teams, six (6) of the CFL's nine teams are privately owned by specific individuals or organizations, none of which led a charge to provide the necessary funds for even a shortened season.
CFL Commissioner Ambrosie went on to mention "They have complicated businesses outside of their CFL ownership and all of those things have been affected as well (by the pandemic) and I don't think it would be fair to harshly judge them when frankly they give and they give and they give."
Ambrosie said while he's bitterly disappointed, the CFL and its teams have the luxury of time to plan for the 2021 season. However, there's plenty of uncertainty about next season, most notably if CFL fans will be allowed back in the stands.
The CFL is called a gate-driven league, meaning that the teams depend heavily, but not solely upon ticket sales to generate revenue.
Minister of Canadian Heritage Steven Guilbeault mentioned "Our government helped the CFL navigate through the existing COVID-19 emergency response programs that are helping tens of thousands of businesses across Canada with revenue and liquidity challenges during this time," Guilbeault said in a statement."
He continued "Although the league was able to benefit from some of these programs, its board members ultimately made the decision not to pursue the upcoming season."
Peter Fragiskatos (London North Centre) Liberal MP strongly opposed any federal money going to the CFL and at this point it's a real gamble!!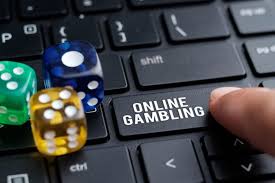 It's noted that with this cancellation, the CFL becomes one of the few major North American pro sports leagues to officially cancel the 2020 season. 
Major League Baseball has a shortened season in place, while the NHL, NBA and Major League Soccer have resumed play and we are hearing that the NFL has plans of starting their season next month, which will be on time, should that happen.
During his tenure he (Ambrosie) has been criticized for his role in navigating the CFL through the pandemic with some players taking to social media voicing their displeasure with Ambrosie. 
Ambrosie said. "I'm committed to this league, I'm committed to its future and I'm going to lean in as hard or harder than anything I've done in my career because I think we've got something special and I'd like to be part of it."
Here's hoping for a resolve for both the players and the league alike!!!
Photo taken by Preston Yip, Oct. 5, 2019
"BC Lions QB Mike Reilly Prepares to Pass!"
Final Score: BC Lions  55,   Toronto Argonauts  8