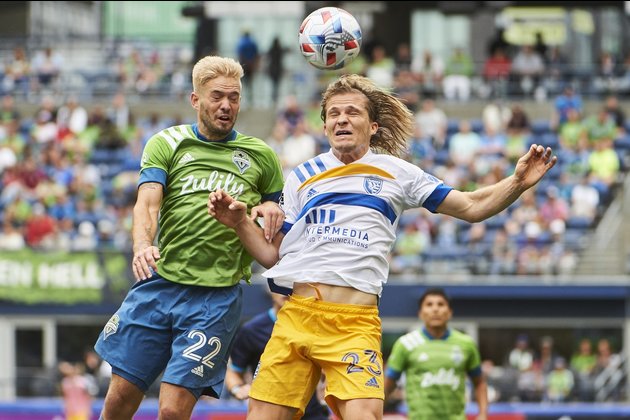 Photo Credit Field Level Media
Trades happen in pro sport and some have their supporters questioning the move, but when all is said and done, it's about making the team better to be a contender.
Such is the case with the recent moves made by the Vancouver Whitecaps who made two moves Friday, while their U23 team was preparing to play a match Sunday against the FC Tigers at Swangard Stadium that ended in a 1-1 draw.
One transaction saw them acquire Florian Jungwirth (32) (Defender/Midfielder) and two-time Defensive Player of the Year who has over 300 appearances, which include over four seasons in the MLS.
The loan last month left of Derek Cornelius left them wanting to add more depth and this move could see him play as a centre back and possibly a midfielder or fullback
It's reported that the two-time Defensive Player of the Year joins Whitecaps FC in exchange for $200,000 in General Allocation Money, in addition San Jose could also receive general allocation money up to $100,000 in 2022.
They (San Jose) retain a portion of the player's 2021 salary budget and while he. Jungwirth holds a US Green Card; he won't occupy an international roster spot.
The transaction was completed on Thursday, prior to the close of the international transfer window in Canada and the United States.
Whitecaps bench boss Marc Dos Santos mentioned "Florian is a player who knows the league well, and knows the Western Conference well from his time in San Jose and he gives us cover in the team, and is a player who should adapt well with our group. We look forward to welcoming him in."
He has played over 13 pro seasons and began play in 201 to MLS with San Jose where he started 120 of 126 MLS appearances which included playoffs.
He (Jungwirth) mentioned "I am really glad to join this wonderful club and everyone knows that I am a warrior and I can't wait to fight and leave it all for you on the field."
Friday also saw the Caps loan homegrown striker Theo Bair (21) to Norwegian club Hamarkameratene and joins them at the conclusion of the 2021 season.
Theo played for the Whitecaps FC BMO MLS Academy and this move was actually completed Thursday, prior to the close of the international transfer window in both Canada and the United States.
Axel Schuster, Whitecaps FC sporting director and chief executive officer mentioned ."It's very important for Theo to get minutes to take the next step,"
He continued ""This is currently the top club in the second division of Norway, fighting for promotion which will be a great environment and challenge for him to develop and grow before coming back to our team."
He (Bair) is in his third active season in MLS, managing three goals and two assists while starting in only 18 with 39 appearances across all of his competitions at the pro level.