Canadian media personality Stu Jeffries knows the importance of keeping fit despite Covid-19, while continuing to manage a successful broadcasting career. 
In a previous column, April 2017, Jeffries shared his passion for hosting the popular CBC Television show, Good Rockin' Tonite. 
With experience surpassing 40 years, he credits having success for maintaining a healthy lifestyle.
These days Jeffries is the morning radio host for Boom 93.7 in Toronto. I caught up with him recently over the phone, from which he shared his fitness tips, including how to get started, and how his family is coping during the pandemic.
Here is our Q & A:
Q: How are you and your family coping during the pandemic?
A:  I've got three teenage boys, and we're both working (parents). As a teenager, your entire life is based on going out, and hanging out with your friends. 
They're not able to do that and I'm really proud of the way they're handling it, but, they have their days like anybody, where it's just very frustrating. 
You tell them to play by the rules and you play by the rules, and they do, but then, they're watching TV or looking at their phones and they see spring break in Florida, there's, 550,000 people gathered with no mask they say, well, how come they can do it?
For the most part, they're holding up well, it feels like it's been on for years and it's only been just over a year, but we look forward to vaccines here and we look forward to everybody getting shot and things getting at least to some kind of normal by the summertime.
Q: What adjustments has your radio show made during the pandemic?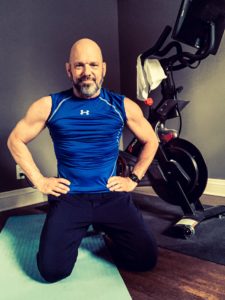 A:  It was just a case of going downstairs (at) home and plugging in and everything was okay. So that lasted for about two month's, maybe. 
I've been in the studio ever since. It's crazy. Everybody's routine has shifted. Morning radio is a little bit different audience-wise than it was. 
I mean, you've lost 50 to 80% of commuters in the car and nobody's going to work, everybody's at home. 
So it's a different sort of listening experience, you maintain the status quo, do what you usually do. And so far it's been working.  
Q:  What is the feature all about?
A: We were sort of sitting around, discussing features to add to the show. 
One of the guys I work with Steve Jones came up with the concept of Toronto, the good, and we would focus on stories in Toronto or the area. 
It became any sort of a news story, and no matter how big or small, and it's crazy how it runs the gamut, like a big story of somebody leaving a $10,000 tip at a restaurant to a small story where somebody helps somebody across the street who would have looked like they were in peril or whatever, but it's amazing how these stories can network with people and how it's almost now more than we are desperate for good news because there's bad news everywhere.
Q: What is your favourite workout regime?
A:  I was fortunate to have worked out a sponsorship with Peloton through the station. 
Through the campaign, they gave me a bike and I signed onto the fitness programs. 
When I first got it, I was sitting at about three, four times a week. I like workout programs that they have, particularly the dirty 30 and the upper body.
So I do those and then I walk my dog. I walk my dog 45 minutes every day, sometimes twice.
Q: What other fitness tips do you have?
A:  I always defer to just doing something. A brisk walk is a great place to start. Nobody really likes exercise and the thought of starting up can be overwhelming. 
If you set the mind to 'it's just a walk', it's easier to get in motion. You'll see results if you stick to it and then it's easy to add other exercises into your regime. 
There are a ton of fitness apps like the 7 Minute Workouts that are easy and effective but you need to be disciplined and stick to them. 
I always tell myself its way easier to stop than to start.
Our weekly Fitness Friday Features are submitted by Christine Blanchette and be sure to follow her on Twitter as well as her Youtube Channel.
Stay Safe and Happy Easter From Christine and the Sportswave Team!!!