For those living in Delta, there was simply no other individual who is more deserving for this award than Ladner BC's James Paxton (30) who was named recipient for the Canadian Baseball Hall of Fame's 2018 Tip O'Neill Award.
Each year Canada's baseball hall of fame committee presents a prestigious honor to a Canadian player that has excelled in individual achievement, while showing huge team contribution to his team while showing a strong devotion to baseball's highest ideals.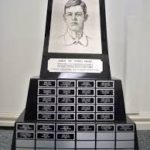 James (6'4") a Graduate of South Delta Secondary is a southpaw pitcher earned the nick-named "Big Maple," is the first Canadian pitcher to ever throw a major league no-hitter in a game played in Canadian against the Toronto Blue Jays on May 8 at Rogers Centre.
This impressive outing came a short six days after he had set a Canadian record by striking out a record number of 16 batters (May 2) in a start against the Oakland A's.
In all he managed eight starts that saw him strike out at least 10 batters, going 11-6 while earning  an ERA of 3.76, fanning 208 batters in 160 1/3 innings.
His recorded 208 strikeouts rank as the second-most by a Canadian left-hander in a major league season that sees him become one of only two pitchers in Major League history to ever manage 200 strikeouts in a season in a record of 161 innings or less.
To the shock of the baseball world in the lower mainland he (Paxton) who was traded November 19th by the Mariners to the Yankees and is a first-time winner of the award.
He managed to hold off others who were worthy of the award, namely Cincinnati Reds seven time-winner Joey Votto Cincinnati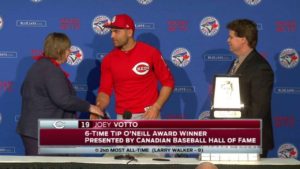 Reds as well as Blue Jays prospect Vladimir Guerrero Jr. and outfielder Tyler O'Neill of the St. Louis Cardinals.
Paxton mentions "I am extremely honoured to have been named the Tip O'Neill award winner for 2018. I am proud to be representing Canada in Major League Baseball and try to do so to the best of my ability. I will continue to give everything I have to be the best baseball player and person I can be. Thank you so much to the Canadian Baseball Hall of Fame and Museum for recognizing my efforts."
He is also active in various charitable and community endeavors in the Greater Vancouver area and has donated signed memorabilia, game tickets to various charities as well as helping volunteer teaching youngsters the art of pitching in the area.
No doubt a tough choice to make for any committee the Hall takes into account a number of criteria.
These include their on-the-field performance, contributions made to their respective team, the community, charitable endeavors as well as voting from the fans, which began November 15.
The Hall had requested that the fans vote for their top three (3) candidates and vote they did by casting their votes via email as well as on the Hall's website.
The Canadian Baseball Hall of Fame's Director of Operations Scott Crawford mentioned "James Paxton had an outstanding season in 2018."
He continued "Not only did he make history when he became the first Canadian to throw a major league no-hitter on Canadian soil, but he also struck out batters at a near-record rate over the course of the season. He's definitely a worthy recipient of the award."
Future details on the presentation of the 2018 Tip O'Neill Award will be announced in the upcoming months.
The award (Tip O'Neill Award) is named after James "Tip" O'Neill who is from Woodstock, Ontario and at that time was one of Major League Baseball's first legitimate and honest stars of the game.
While playing with the American Association's St. Louis Browns in 1887, he (O'Neill) set big league records in hits, doubles, slugging percentage and total bases, while compiling a major league record .492 batting average.
At that time (1887) walks were counted as hits but if O'Neill's average was calculated by today's standards, it would rank as a respectable .435, the second-highest in big league history. next to Hugh Duffy who hit .440 dating back to 1894.
Remarkable as it can be!