MK Delta Lands Criterium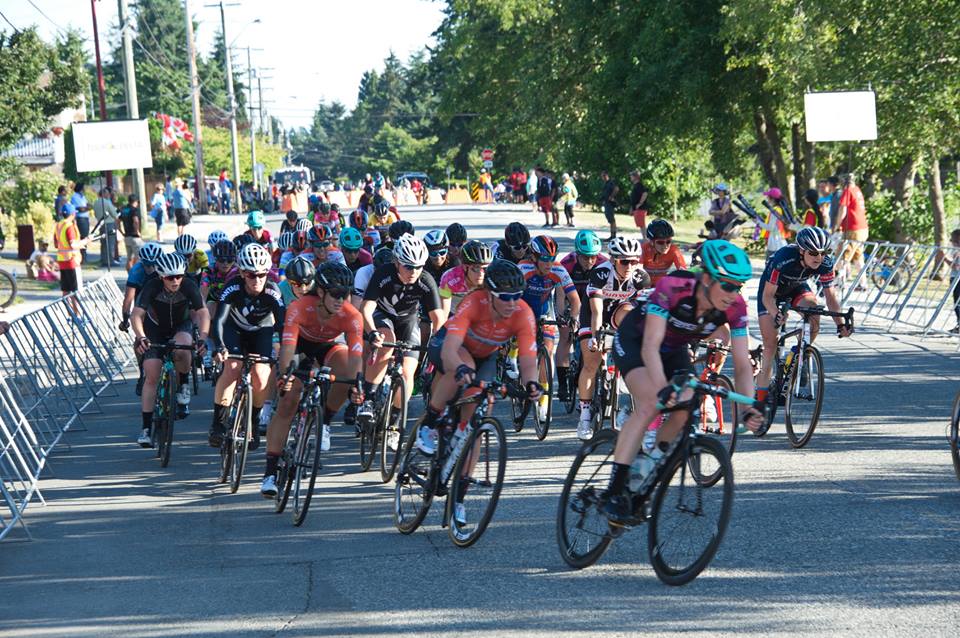 For those living in Delta this is the one event that the residents look forward to every July and with the field of riders getting stronger, this event will only get stronger and stronger.
It's in part due to the over 400 volunteers that make it happen and as strange as it sounds, they all have a task that they alone can do, and heaven forbid if you get in their way.
The Government of Canada made a donation of $50,000 where the cheque was presented at City Hall in Ladner and on this night it was great to once again have Carla Qualtrough join us at Delta TV for yet another interview.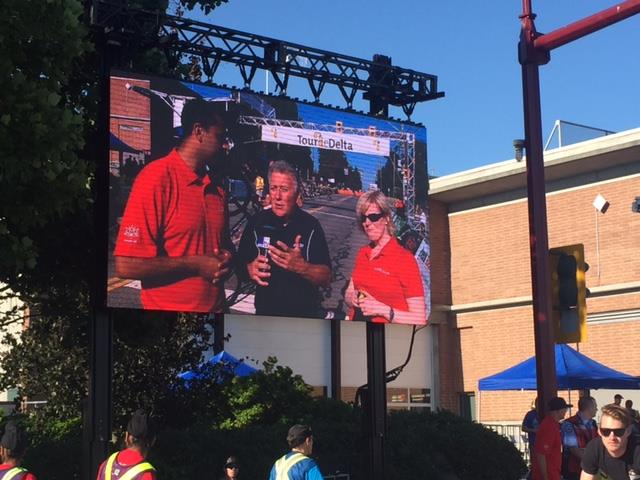 Once again Delta TV is doing a live broadcast for both Friday and Saturday and I am pleased to be working alongside Richard Wooles who is a former Athlete and Coach for multiple Olympic Games as well as Ben Chaddock who is a former Canadian National Criterium Champion in 2012.
Knowing for having a "first" this year we were pleased to have the newest North Delta MLA, Ravi Kahlon join us for a pre-race interview as well and wish him all the success in the world.
Once all the formal announcements were out of the way the first race was the Women's field in the 35-lap, 36 Kilometre MK Delta Lands Criterium which officially kicks-off BC Superweek in the lower mainland.
They always say that once an Athlete, always an Athlete and such is the case with former speed skater Kristi Lay (29) who turned in her blades five years ago for wheels and hasn't missed a stride and last month finished second in the Canadian road championships and the Grand prix Cycliste de Gatineau in May.
Kristi rides for Rally Cycling and managed to open a 26-second lead early in the race claiming the win in the 35-lap, 36-kilometre MK Delta Lands Criterium kicking off BC Superweek and the Tour de Delta as broadcast ONLY on Delta TV.
Following the race she told the media "I had a great team behind me so I could take a risk early, I knew there was more than one of us that could finish off the race, and that's the fun part of being on such a great team."
She has represented Canada in track cycling several times managing to win five (5) medals in team pursuit, including gold at the 2015 Pan-Am Games, silver at the 2016 World Championships and 2015 Pan-Am Championships, and Bronze at the 2016 Rio Olympics and 2015 World Championships. 
Lay's teammate who calls Calgary home saw Allison Beveridge (24) and reigning Women's Canadian Road Champion who placed second with a short 32 seconds behind and it's interesting to know that both were teammates in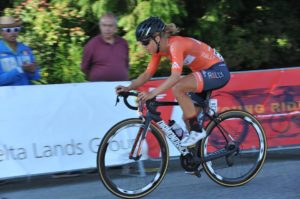 the team pursuit at the 2016 Rio Olympics.
Beveridge mentioned "It was really fun! I kind of got to be people's shadow, which I'm sure was a bit frustrating, but Kirsti was just off the front riding super strong."
Third place went to Melbourne's Elizabeth Williams from Hagens Berman | Supermint who the finished the race in one hour, three minutes and 22.44 seconds, a short four seconds behind Beveridge and only 36 seconds behind Lay.
BC Superweek and the Tour de Delta continues on Saturday with the Ladner Criterium.
Great to have James Cybluski return to the mic and incidentally he will be hitting the air-waves with the new SN650 this fall.
The women's race starts at 6:15 pm while the men begin at 7:25 pm.