Elite & Master Riders Compete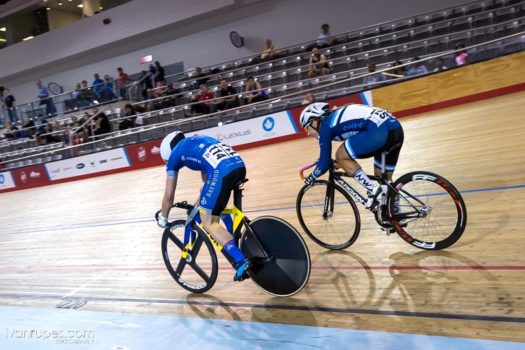 http://pedalmag.com/tag/feature/
Living in BC allows us to ride on the roads at various times and locations or if we want an adventure we can venture to the Burnaby Velodrome in Port Moody when we feel the need for speed.
We are hearing that the 2017 Canadian Track Championships p/b Lexus for the Elite and Masters athletes officially opened this past week in Milton Ontario at the Mattamy National Cycling Centre.
New and returning riders some with experience, others being a seasoned riders appeared on the podium all having hopes of donning the maple leaf jersey for a National Championship title.
In total there were six National titles awarded in the Elite category for both Women and Men, that included four in the team events – namely the Team Sprint and Team Pursuit.  
The Team Sprint is the composite squad of Quebec's Lauriane Genest and BC's Tegan Cochrane who rode away with the women's title with a time of 35.327 seconds.
This was almost two seconds faster than second place composite team of Alberta's Devaney Collier and BC's Jenna Nestman.
The men's competition saw clear domination by Equipe du Quebec, that were enriched by three members of Canada's National team.
They were led by Rio Olympian Hugo Barrette, Patrice St Louis Pivin and Joel Archambault and rode to a time of 44.693 a narrow one second slower than the Canadian record, set at altitude in Mexico.
The Team Pursuit comprised with members of Canada's Olympic Bronze medal championship team win the women's title, featuring Allison Beveridge, Laura Brown, Katherine Maine and Annie Foreman-Mackey winning qualifying, while Jasmin Duehring was a "sub" for Laura Brown in the ride for the Gold medal.  
The team managed to record a time of 4:29.936 which is a close two and half seconds faster than Silver medalist team riders from Ottawa.  
The Cyclery-4iii team is comprised of Laurie Jussaume, Ariane Bonhomme, Kinley Gibson and Sara Giovannetti. 
The men's event saw Team Race Clean (Bailey Simpson/Evan Burtnik/Derek Gee/Adam Jamieson) win the title after catching a composite team comprised of Chris Ernst, Michael Foley, Ryan Roth and Ed Veal.
Also awarded were two individual titles in Elite competition, in the time trial events with Lauriane Genest (Equipe du Quebec) win the women's 500 metre competition with a time of 35.337 seconds.
She finished 1.216 seconds ahead of Cycling BC's Tegan Cochrane with National road champion Allison Beveridge (Rally Cycling) placing third.  
The men's 1000 metre event saw Cycling BC's Adam Attwell win his first Elite title with a time of 1:06.678, placing a close 0.283 seconds ahead of Ed Veal (RealDeal Racing).
Adam Reddy with Team Alete won Bronze.
Visit www.racetiming.ca for full results.