While the sunshine is still around and hockey on the horizon with training camps currently underway others are turning to a different sport involving ice.
Canada's curling community has a scholarship program which is an investment for applicants that are assessed on their academic accomplishments as well as those having aspirations as well as their volunteer contributions made to their community.
Those that are successful will use the scholarship funds for the 2019-20 school year to cover part of their education and curling cost.
In order to be considered the applicant is required to be enrolled (full-time) for at least two semesters at a Canadian university or college.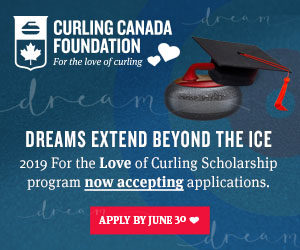 They must also be registered to compete for Canadian Team Ranking System points during the complete 2019-20 curling season.
Some of Canada's up-and-coming curling athletes will receive some financial help after being named recipients of the 2019 Curling Canada For the Love of Curling scholarships.
There were 62 applications applying for the scholarships, which are one of the highlighted initiatives of Curling Canada's philanthropic program.
A selection committee had to narrow down the list of deserving applicants to the 10 recipients, which was obviously not an easy task.
Maureen Miller, Chair of the Curling Canada Board of Governors mentioned "I was extremely proud to be part of this process, and while it was difficult to narrow the list down to 10 recipients, it was also encouraging to learn more about such an amazing group of young athletes."
Miller continued, "As a sport, I can tell you that we are in good hands going forward. We have extremely talented young curlers, but just as importantly, they are exceptional citizens within their communities."
The 2019-20 scholarship recipients are:
Skylar Ackerman, Chamberlain, Sask. (Science/Kinesiology, University of Saskatchewan)
Émile Asselin, L'Île Bizard, Que. (Masters-Physiotherapy, University of Montreal)
Chantele Broderson, Lacombe, Alta. (Education, University of Alberta)
Bella Croisier, Sudbury, Ont. (Forensic Sciences, Laurentian University)
Émilia Gagné, Alma, Que. (Doctorate-Pharmacy, Laval University)
Lauren Lenentine, New Dominion, P.E.I. (Science, University of Manitoba)
Paige Papley, Edmonton (Earth and Atmospheric Science, University of Alberta)
Wil Robertson, Moncton (Political Science/Great Books, St. Thomas University)
Desmond Young, Banff, Alta. (Science/Kinesiology, University of Alberta)
Emily Zacharias, Altona, Man. (Science/Kinesiology, University of Manitoba)
The selection committee consists of the following Miller, Curling Canada Chief Executive Officer Katherine Henderson, longtime curling coaches Jeff Hoffart and Adam Kingsbury, and former For the Love of Curling scholarship recipients Kaitlyn Jones, Kristen Streifel and Karsten Sturmay.
It's interesting to note that Kristen Streifel contributed $1,200 to Curling Canada's philanthropic program as a participant in the 2019 Women of Curling Calendar.
The Curling Canada philanthropic program was introduced during the 2013-14 season as a means to help junior curling as well as offering support for various curling centres across Canada.
Last season, donors invested $494,755 in the sport of curling to support youth programs across Canada.
The Egg Farmers Rocks & Rings program presented by Curling Canada, Curling 101-Try Curling, 
Hit Draw Tap presented by Tim Horton's, and For the Love of Curling scholarships are only made possible thanks to the generous support of the Canada's curling community.