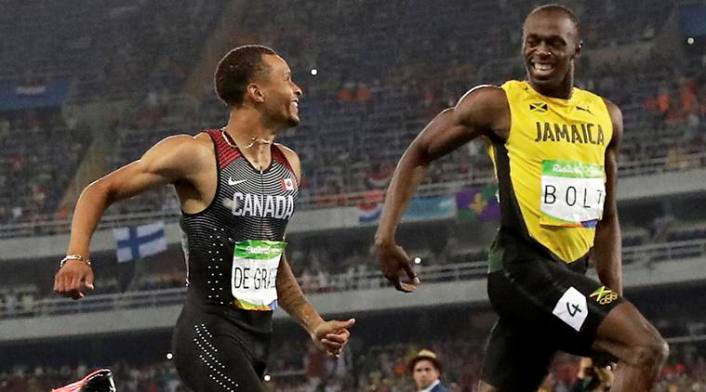 Unless you are living in a bubble and the sound is off, you have obviously come in some form of contact with Rio 2016 news and highlights.
Canada send an exceptional group of individuals to represent not only the Nation but various sports in their selected sport of choice.
True – not everyone can and will win a medal, but being realistic each Athlete is a winner just by being a part of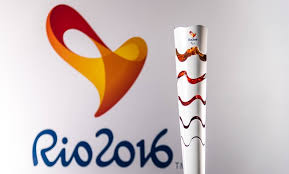 Canada's Olympic Team.
For some it's not their first "taste" of the Olympics but rather a couple and quite possibly even more, so naturally more pressure is on them directly.
While attending the recent Harry Jerome Track Classic in June at Swangard Stadium we had the luxury of chatting with Andre De Grasse who from all accounts is extremely personable and welcoming to his fans and especially today's youth.
He spoke openly about his "trip" to get to this plateau and has nothing but thanks to everyone who helped him reach this level.
Training was essential for these Olympics as he knew he would be up against the worlds best racing against Usain Bolt and it's interesting that over time they have somehow bonded.
Despite the rivalry they are true competitors at the highest level of the sport and if a movie was ever written you could call it "The Champ & the Kid".
Training is one thing and becoming competitive with Gold on the line is different and both understand this.
When the two found themselves in the lead for the Men's 200-meter semi-final, ironically they both looked and grinned at each other which was like saying "Not this time kid".
One can only wonder what Bolt might be thinking or this young kid staying stride for stride with the worlds greatest?
The photo finish looked like a school-yard bully trying to incite the rookie into thinking he can actually be the "Champ", but that (at press time) remains to be seen.
Following the race both Bolt and De Grasse went through the mixed media zone and he naturally stopped to answer some questions with Australia's Channel Seven and he simply didn't mix any words.
He mentioned "That was not cool," talking about De Grasse's challenge and he continued "You don't need to do that in a semi, but he's just young and he'll learn."
De Grasse when he spoke with Scott Oake (CBC's) following the race simply stated "I was just trying to push him to reach his potential."
While this rivalry seems friendly, you know when they get in the blocks for the final race it'll be anything but competitive for both men.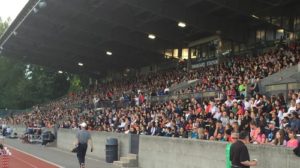 Now the only question that the Harry Jerome Track Classic will have to ask is "will DeGrasse ever return to race in Vancouver or rather Burnaby?