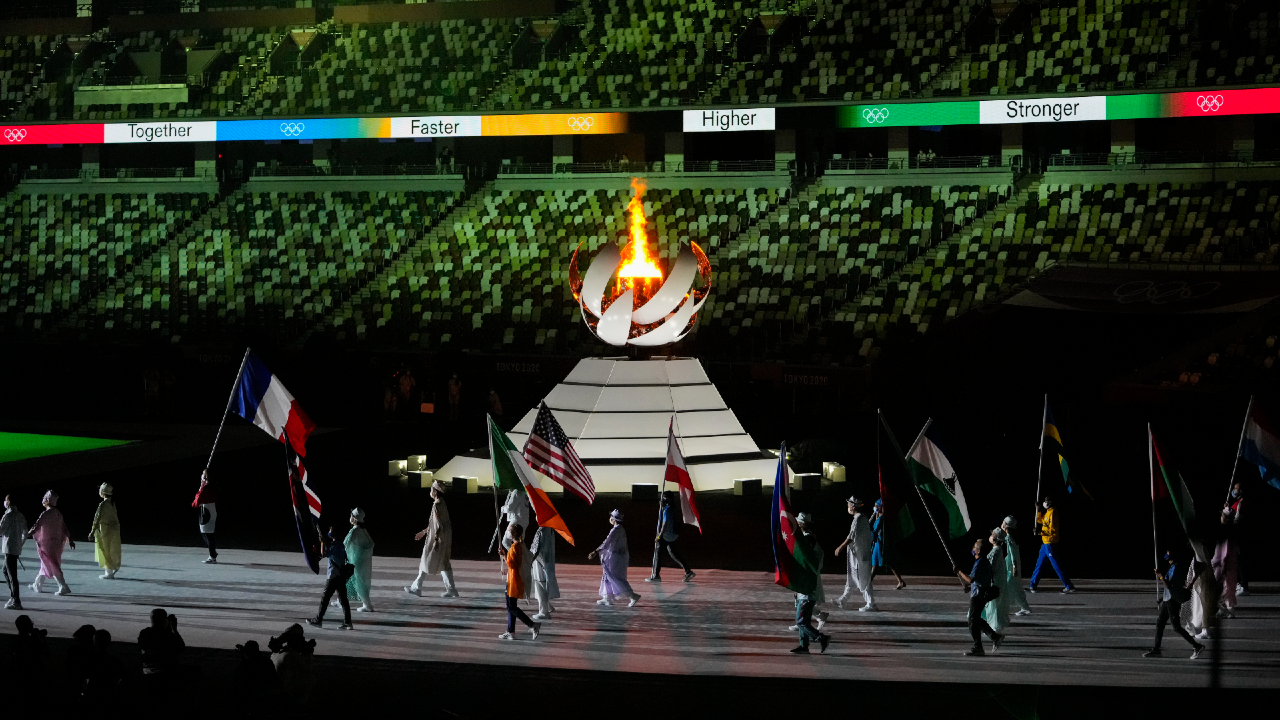 Sherwood Park's Kelsey Mitchell (27) proudly showed the world what hard work means if you follow your Olympic dream as she proudly displayed her Gold medal becoming the last athlete to hear "O Canada" played at the Tokyo Olympics.
She cycled to Olympic Gold winning the women's sprint defeating the reigning world champion on the way to the finals, then went on to won two straight races in a best-of-three showdown.
Overall Canada comes home with 24 medals; which amounts to seven Gold, six Silver, and eleven Bronze as the 2020 Tokyo Olympics officially come to a close.
Strangely enough this becomes a record for Canadian for any non-boycotted summer Olympics.
Closing Ceremony
The games went on, but it wasn't without controversy and concern even while they were being played mainly due to the frustration of the public in Tokyo, while the rest of the world watched.
The Olympic cauldron was extinguished which signaled the completion of the Games remembering that athletes are preparing for the2024 summer Olympics in Paris.
London Ontario's Damian Warner (31) Canadian decathlete and Gold medallist carried the Canadian flag into the Olympic Stadium for the closing ceremony becoming the first Canadian to win the decathlon at the same venue earlier this week.
Medal count
The United States won the most medals with 113 podium finishes, 39 of which were gold which is the third-consecutive time the US has topped the medal count standings at the Summer Olympic games.
China came second with 88 medals (38 Gold), while the host nation Japan won a total of 58 medals, which is a new record for Japan, surpassing the 41 medals won in London 2012 and also includes the most Olympic gold medals (27) ever won by the country.
Canada sat outside of the top 10 countries taking the 11th most medals in which 18 or 75 percent were captured in women's events.
Men's marathon
Canada's Katie Vincent and Laurence Vincent-Lapointe won Bronze in the Women's doubles 500-metre canoe sprint which is the first medal for Vincent and the second for Vincent-Lapointe, who took silver in the C-1 200 on Thursday.
They crossed the finish line with a time of one minute 59.041 seconds, 3 ½ seconds behind China the Gold medallists, while Ukraine took Silver with a time of 1:57.499.
The win gives Canada 23 medals at the Tokyo Olympics, its most ever in a non-boycotted Summer Games.
As is tradition, the men's marathon wrapped up athletics events while Kenya's Eliud Kipchoge raced to a second-consecutive old medal. Only two other men have ever done the same.
Canadian Ben Preisner finished 46th in his Olympic debut, running across the 42.195-kilometres in two hours 19 minutes and 27 seconds. He completed the course just over 10 minutes after the victor.