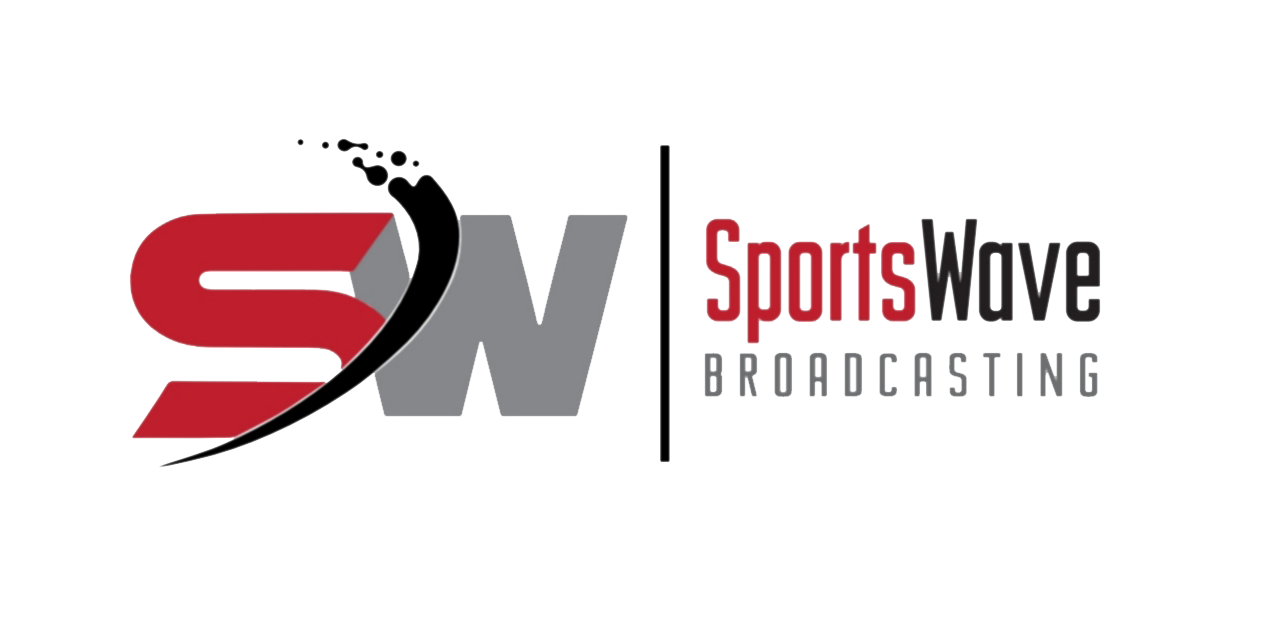 NBA Shows Diversity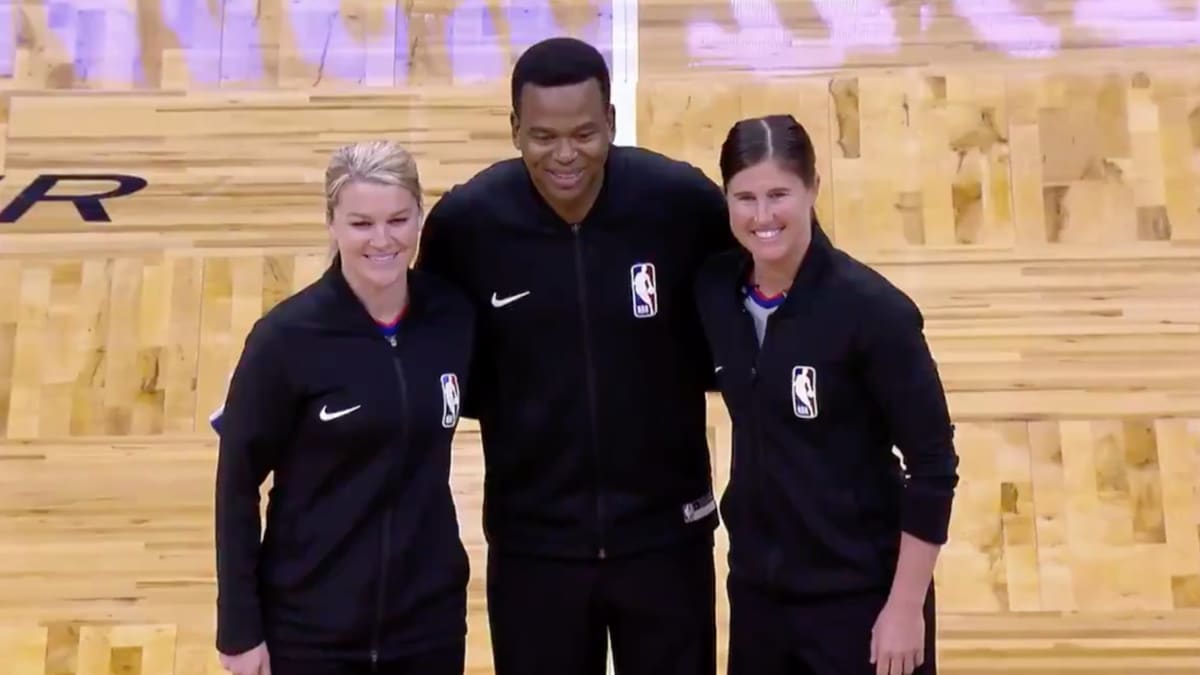 Photo Credit NBA on TNT via Twitter
Being heavily involved in the officiating world it's enlightening when I hear about growth in sports that expands the talent in various sports.
Being involved in officiating for well over 60 years now I never would have ever thought that male sports would ever open its doors to having female officials work at a higher level of the game.
Don't get me wrong, I'm not a male chauvinist by any means, but when you look at various areas of games such as speed, aggressive play such as fighting as well as the profanity thrown out by the players there aren't many that can stand the heat.
Some can, but not all and personally I have seen some young female officials get advanced to higher levels of sport so the sport isn't deemed to be male only.
It's sad to see happen cause in some cases the young female official who is moved up has a tendency to be overbearing, which only adds to the frustration level of everyone playing.
Is there pressure on sport to advance female officials to the higher level – yes there certainly is that many are asking why the guy's don't get put in female games when they have more talent than some other female officials?
It's the world of politics, but I am happy and pleased to see young female officials advance only if they are qualified to work at that level of the game.
Now I am hearing that there are more female referees currently in the NBA than in the past and it was only a matter of time before two women would be scheduled to work the same game.
It finally happened when 2nd season Natalie Sago and Jenna Schroeder made up two-thirds of the crew assigned to the Charlotte at Orlando game, which is the first time in the history of the NBA that two women were assigned to work a regular-season contest together.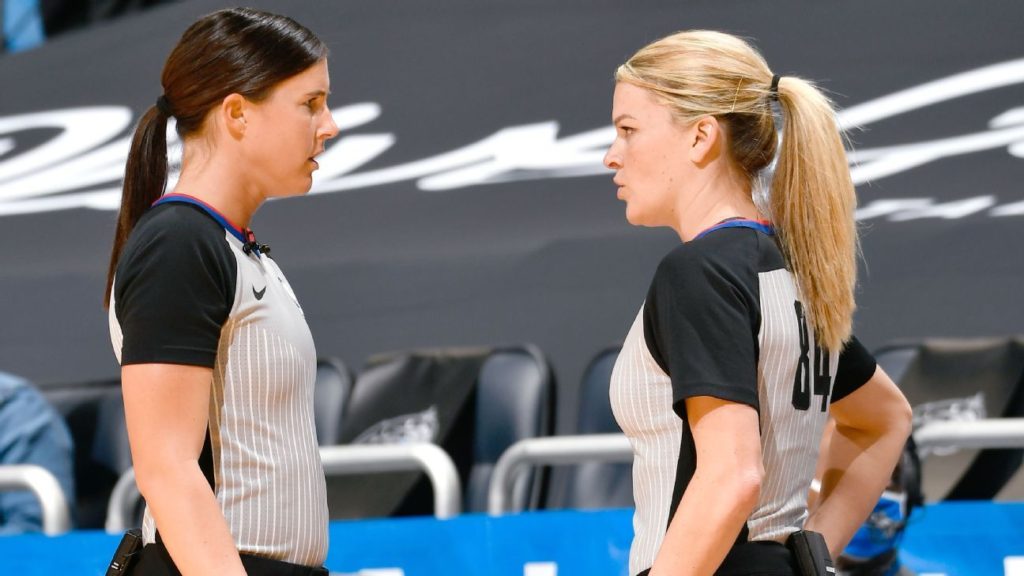 Natalie calls Farmington Mo. home and  took up officiating as her Dad was an official for 34 years and herself has officiated 31 games in her first regular season in the NBA in 2018-19 while Jenna hails from Flint Michigan and has officiated in the NBA G-League for two seasons as well as the WNBA with seven years college experience behind her.
Sean Wright was picked to be crew chief, Sago the referee and Schroeder the umpire.
They (Sago and Schroeder) have worked games together before; they were part of three-woman crews in the G League, but at the NBA level, it's a first
It's a game they've been looking forward to since they saw it on the internally distributed schedule a month ago. The crews for games are not announced publicly until 9 a.m. Eastern on game days.
"This is a big deal," Schroeder said. "It's like my feminist dreams come true, that like my personal values are colliding with my professional values and it's awesome."
The NBA has used 76 officials so far this season; seven are women, already the most to work games during any season in league history.
Lauren Holtkamp-Sterling, Ashley Moyer-Gleich, Simone Jelks, Danielle Scott, Dannica Mosher, Sago and Schroeder are all working games this season; Scott and Mosher are non-staff, the other five are members of the full-time NBA officiating roster.
"It's so cool," Sago said. "All of us, we're so happy and excited to work together. We just have a good group of females, we're all close, we have great relationships and we share these moments."
The original schedule called for another crew with two women for a game later this week. 
That lineup has since been switched, but Sago is certain this game won't be the NBA's last with multiple female refs.
"It's amazing," Sago said. "I'm just proud to be part of an organization that promotes people to do the job based on our abilities, not on our gender, race, ethnicity, those types of things."
Thanks to Tim Reynolds, The Associated Press for the article
Natalie Sago and Jenna Schroeder are the first two women ever to officiate the same NBA game 👏

(via @NBAonTNT)pic.twitter.com/WdcLT15p0q

— Sports Illustrated (@SInow) January 26, 2021