Tradijy struck the sporting world Sunday with the news that Koby Bryant (41) his Daughter (Gianna) and early reports were that six others had passed away when his helicopter had crashed in Los Angeles.
Reports that came out of LA indicated that retired NBA legend Kobi Bryant was travelling in a private Sikorsky S-76 helicopter before it went down in Calabasas, California which is about 30 miles NW of LA around 10 AM pacific time.
The Los Angeles County Sheriff's Office confirmed nine perished, which include Kobi and his Daughter leaving no survivors.
He (Bryant) played for 20 years with the Los Angeles Lakers, winning five (5) NBA championships and is considered to be one of the best all time basketball players.
He was an integral part of the US team that won Gold medals at the Beijing 2008 Olympics as well as the Olympic Games in 2012 in London.
In the2008 Olympics in Beijing he scored 20 points, thirteen (13) of which were in the fourth quarter in addition to grabbing six assists in the final as the US defeated Spain 118–107.
He did not play in 2004 in Athens due to reported allegation of sexual assault in Colorado in 2003.
Prosecutors eventually dropped the case after the accuser declined to testify in a criminal trial and both sides settled a civil lawsuit prior to the trial beginning and did issue a public apology to the victim's.
He was also a member of the US team that went on to win the 2007 International Basketball Federation) Americas (FIBA) Championship.
He went on to enjoy life with his Family and retired in 2016 from a career that saw him score 33,643 points.
This point total allowed him to be ranked third in NBA history until LeBron James passed him on the scoring list the night prior to his passing.
He was the first NBA guard in history that played at least 20 seasons and is the first and only player in Lakers history that had both #8 and #24 jersey numbers retired by any team.
He did maintain his connection link with the Olympics even after his retirement going on to promote LA's successful bid for the 2028 Games.
Many are not aware, but he was a member of Los Angeles' Board of Directors and Athletes' Advisory Board who appeared in two (2) promo films and attended a gala dinner during the International Olympic Committee's Evaluation Committee visit.
He was instrumental in promoting the LA bid by directly speaking to the general secretary of FIBA leading the IOC Evaluation Commission, Patrick until his untimely death in October 2018.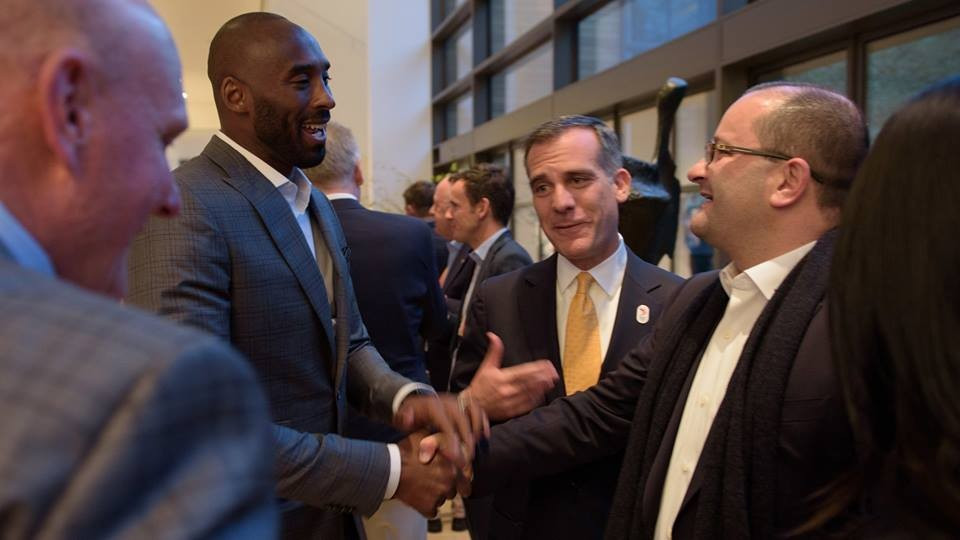 He also was the last personality to appear on a pre-recorded video shown to the IOC during an Extraordinary Session in Lausanne in 2017 where it was agreed that Paris would be awarded the 2024 Olympics and Los Angeles 2028.
It's reported he mentioned "There are so many different cultures represented here, so many different ethnicities represented here and LA can be anything you want it to be and to have the Olympics here and to have so many different cultures represented would be a beautiful story to tell."
Following his retirement he went on to win an Oscar for his short film in 2018 titled Dear Basketball.
He is survived by his Wife Vanessa and their three other daughters – Natalia, Bianca and newborn Capri.
Many in the Vancouver area might remember when he played against the Grizzlies March 3, 2001, scoring 20 points and pretty much impossible to get a ticket for the game.
Adam Silver NBA commissioner mentioned Bryant and his daughter by name stating "The NBA family is devastated by the tragic passing of Kobe Bryant and his daughter, Gianna. … We send our heartfelt condolences to his wife, Vanessa, and their family, the Lakers organization and the entire sports world."