World Baseball Classic
http://www.wymt.com/content/sports/Dodger-Stadium-hosts-2017-World-Baseball-Classic-title-game-391333671.html
Rumor has it that the upcoming fourth edition of the World Baseball Classic may be the last and if so Canada is facing a re-construction of its roster.
The 28-man team recently unveiled Wednesday will be missing the likes of Russell Martin and Michael Saunders, both of whom committed to the team but were forced to withdraw because of circumstances outside their control.
Martin was excited to play shortstop for the National team, but is unable to dress due to insurance complications related to his minor off-season knee surgery.
Saunders, on the other hand recently signed a $9 million, one-year deal with the Philadelphia Phillies and is required to be at camp with his new club.
This is an issue seriously impacts both its competitiveness on the field and the overall quality of the enterprise from the core group.
The World Baseball Classic debuted in 2006 and with the lack of buy-in or uncertainty from certain players, managers, general managers and player development personnel has seriously watered down the rosters of every club.
Some countries have deep talent pools to draw from (United States, Japan, the Dominican Republic and Venezuela) and the issue isn't as pressing for various reasons due to various options.
For other countries such as Canada, which has and shows lots of talent but not deep in the depth pool, the loss of each first-option player deeply affects the on-field product.
Some countries have a lack of star power or talent and that necessarily doesn't have to be a dagger in the team's roster, such as Italy's run into the second round of the 2013 tournament. This clearly demonstrates that, but realistically one should remember that the Classic was designed to be an international best-on-best event.
Overall the World Baseball Classic concept is exceptional and given the restrictions placed on it by the timing and rules on pitcher usage, the games are entertaining to watch.
Upon returning to spring training, some players have great things to say about their time at the event, while others feel a sense of a let-down returning to spring.
Over-all these tournament games offer baseball-starved fans, who just finished taking in the Super Bowl experience more of an entertainment value than any Grapefruit or Cactus League game.
Despite all the positives one hears about the event, many players find drawbacks such as an interruption to their regular routine of getting ready to play meaningful baseball earlier than normal.
While all of the concerns are valid and three tournaments in, it appears it's not getting any better and for Canada, it means digging down the depth chart.
This in hopes of  defeating the Dominican Republic or the United States, in hopes of being one of the two teams to advance out of a first round group, which also includes Colombia.
Canada's infield will see Freddie Freeman and Justin Morneau at first base, Pete Orr at second, Jonathan Malo at shortstop and Jamie Romak at third.
George Kottaras and Kellin Deglan will trade catching duties, with Tyler O'Neill in left field, Dalton Pompey in centre and Rene Tosoni, Eric Wood and Romak in right field.
Seems that this lineup should score some runs, but possibly not outlast the Americans or Dominicans in a power-hitting contest.
Retirement means nothing as both Ryan Dempster and Eric Gagne and Canada is in need  of quality innings from both players.
It is expected that Dempster is considered for a start in one of the first-round games, while Gagne will be used at game end and seal the deal.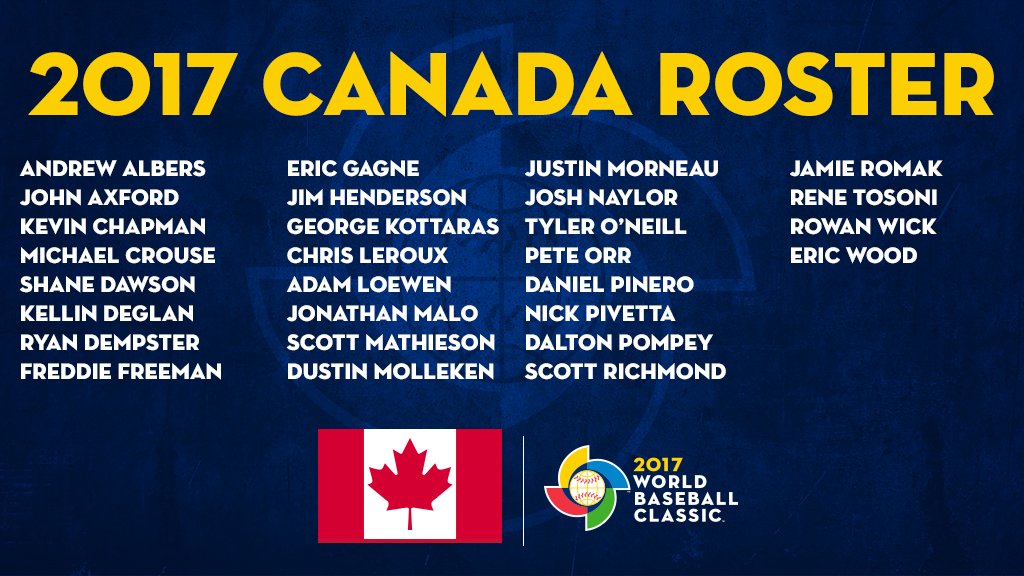 Also in the mix to start games are Scott Richmond, Andrew Albers and Chris Leroux while the bullpen features the likes of John Axford, Jim Henderson, Adam Loewen, Dustin Molleken and Scott Mathieson who has the potential to shorten any game.
Under modified rules in place for this Classic, teams can identify a designated pool of 10 pitchers from which one or two can be subbed onto the roster in subsequent rounds.
The change fits the United States, which can bring in players added to the list like Clayton Kershaw and Madison Bumgarner.
Should the US advance they might bring them in for a start each in the latter rounds, but that remains a mystery at present.
The Canadians don't seem to concerned as the notion of asking a pitcher or two to help then get thrown aside like a bean-bag when they bring someone else in – clearly not the Canadian way.
Canadian have a passion with which they play and a strong desire to compete for each other, which quite often be a detriment as the tournament gets deeper.
While the Canadian roster might seem to be far from perfect it's the best Canada can put on the field. under the circumstances.
No different from the outset – will this event survive or fizzle out?