If you're a racing fan you're no doubt missing racing at the ¼-mile paved oval track known to everyone in the lower mainland as the Langley Speedway. 
The last Sunday in May saw the 105th running of the Indy 500 that saw history being made as Helio Castroneves became a member of an exclusive club in front of 135,000 spectators making the race more entertaining noting that when Covid-19 hit 15 months ago; last year's race was delayed to August from May in 2020, 
He managed this by winning the Indianapolis 500 for the four-time with a shocking victory at Indianapolis Motor Speedway..
The win sees Castroneves (46) join A.J. Foyt (1961, 1964, 1967, 1977), Al Unser (1970, 1971, 1978, 1987) and Rick Mears (1979, 1984, 1988, 1991) as four-time winners of what is referred to as "The Greatest Spectacle in Racing." 
The "Greatest Spectacle in Racing" hadn't not been held in May since it wasn't held at all for the fourth consecutive year in 1945 due to World War II, and it has never been run outside of May.
Helio calls Brazil home, noting that his previous victories were in 2001, 2002 and 2009, as a full-time driver with Team Penske, which is the winningest team in Indianapolis 500 history. 
He drove the No. 06 AutoNation/Sirius XM Honda of Meyer Shank Racing to the team's first Indy win and first NTT INDYCAR SERIES victory. 
The win makes him listed as the fourth-oldest winner in "500" history in his first INDYCAR start of the season, as he is scheduled to run only a partial schedule this year which he told the media.
It makes the older generation feel like they have achieved success beating out the younger generation who still have much to learn, not just in racing but all ways of life, knowing that we are teaching them a valuable life lesson. 
He started in the grid in eighth,  managing to finish the race in what was close to a photo finish but managed to keep the lead over Spain's 24-year-old Alex Palou in the last few laps passing Palou on the outside in Turn 1 on Lap 199. 
Obviously he could sense the victory and continued to hold off Palou's No. 10 NTT DATA Chip Ganassi Racing Honda winning by a mere .4928 of a second. 
The race saw drivers average speeds of 190.690 mph that saw cautions only twice for a total of 18 laps for only a total of 18 laps, 
The race welcomed 40 percent of the capacity as yet another sporting event as the world resumes to some form of normalcy in hopes of ending the covid-19 pandemic. 
The win obviously means a lot to him who has become known to the racing world as Spider Man, showed his agility by climbing the fence along with his team to the enthusiastic fans. 
He narrowly edged out former Penske teammate Simon Pagenaud whom it should be noted captured the 2019 Indy 500 finishing third behind Helio, while Pato O'Ward finished fourth and Edward Carpenter took fifth. 
In a class act he gave a shout out to other older athletes such 46-year old, 7 time NFL Super Bowl champion Tom Brady of the Tampa Bay Buccaneers and 50-year old Phil Mickelson who recently won the Masters Golf championship saying "It's not the end; it's the beginning and I don't know if it's a good comparison." 
This year's event proved to be the fastest in the history of the Indy 500 with drivers reaching an average speed of 190.690 breaking previous speeds of 187.433 set in 2013.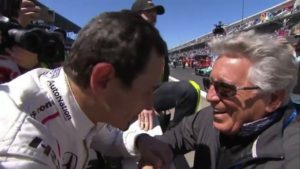 We should remind everyone that age is only a number!!